February 10th, 2006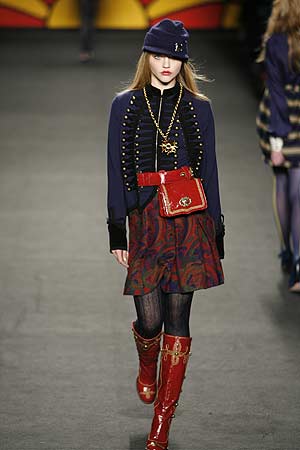 Photo Credit: NY Metro
Key Takeaways: This time it's all about contrasts – knit beanies with elegant dresses, leopard print with polka dots, and further clashing patterns. Every so often there was a hint of minimalism in single-colored ensembles, but the underlying theme was funky mismatched designs.
Color Palette: Though there were many hues in this collection, none were as loud as their fellow patterns. There was an even distribution of black, white, and grey, with random patches of red, rustic orange, lavender, navy blue, and watercolor blue.
Silhouettes: Some long-sleeve button down collared shirts with a bow at the neck, an occasional military style jacket, loose skirts and shorts, cropped shirtdresses, oversized blouses, wrap dresses with loose blouses underneath, and baggy jumpers.
Accessories Report: This Anna Sui lady is flight bound; she has a loud-patterned suitcase to match her stylish getup. Also in tow, round sunglasses (though not as huge as MK's), beanies, fisherman hats, small purses worn as fanny packs on the side of the hip, big and long medallion-like necklaces, tights with patterns on them, and round toe boots in loud colors and patterns.
What's Wearable: One must really pick apart every single outfit on Sui's runway in order to make them semi-wearable. Each piece might be able to be worn on the streets, but it must not come close to the other loud pieces paired on the models in this collection. One accessory that will be bitten off from this show is the long medallion necklace.
What's Not Wearable: If thrown together, almost none of these pieces can be worn, especially a matronly dress with long sleeves, high neck, and a tie at the neck. Some of the boots with patterns are also better left on the runway.
Entry Filed under: Runway Reviews,Runway Reviews,Trend,Women