February 10th, 2006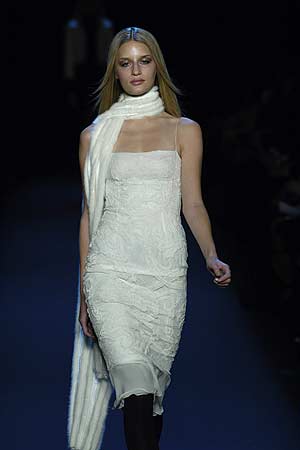 Photo Credit: NY Metro
Key Takeaways: For Carmen Marc Valvo, it does matter if it's black or white. From the depths of the dark runway, models dressed in crisp white and sharp black demand attention. Classic shapes – power suits and strapless dresses – have been spiced up and given edge.
Color Palette: Black, white, with an occasional light blue, copper, and royal blue.
Silhouettes: Strapless dresses (short and long), cropped and long coats, pant suits, classic button down shirts, boatneck dresses.
Accessories Report: Long, knit scarves, aviator shades, and black opaque tights are paired with chic evening gowns.
What's Wearable: The pieces in this collection are so simple and classic that each can be worn with great ease. A trend that might catch on soon is the pairing of a long, knit scarf with an evening gown. The contradiction of the everyday accessory (the scarf) and the night dress is not only attractive but practical.

Entry Filed under: Runway Reviews,Runway Reviews,Trend,Women