February 10th, 2006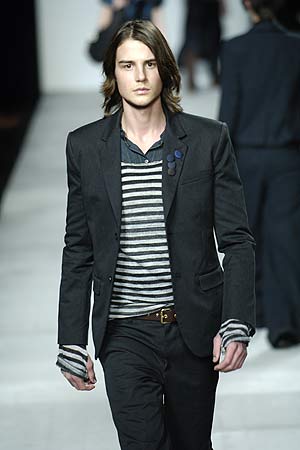 Photo Credit: NY Metro
Key Takeaways: The look was very Bobo (think Mary-Kate and Stavros in the Village).
Color Palette: As if straight out of a Rothko painting, the color scheme was limited to blue, grey and black.
Silhouettes: Models strutted down the runway in layer upon layer of oversized clothing.
Accessories Report: Ultralong scarves (and necklaces for women), newsboy hats, logo duffels, knit ski hats for men, pins on lapels, suspenders, fanny packs.
What's Wearable: For women, a capelet with oversized buttons; an oversized wool grey coat; slouchy leather bags. For men, fitted blazers with pin adornments on the lapel.
What's Not Wearable: Colorless colonial-style dresses for women; for men, sleeves hooked to the thumbs.

Entry Filed under: Men,Runway Reviews,Runway Reviews,Runway Reviews,Trend,Women