February 10th, 2006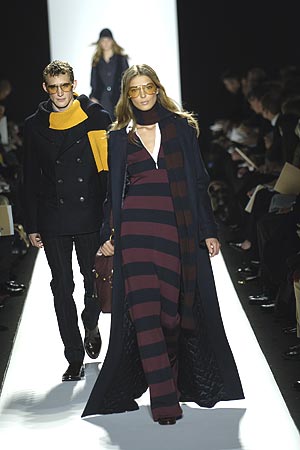 Photo Credit: NY Metro
Key Takeaways: It seems Michael Kors is also smitten with the color black so we suppose it's staying put for a while. But thankfully Mr. Kors hasn't overlooked important details like fur, thick belts, knit scarves, bows,and more. Both the men's and women's lines have an overall serious tone, but some Abercrombie & Fitch-like preppy stripes lighten the mood.
Color Palette: Black is back, but grey, white, beige, yellow, blue, maroon, and olive green make it in to the mix.

Silhouettes: Tight trousers, blazers, vests, cardigans, trench coats, nad turtlenecks for the men. For the women, airy dresses, slim turtlenecks, large coats, skinny cropped trousers, A-line skirts, knit dresses, and fur shrugs.
Accessories Report: The men sported yellow-tinted shades, skinny one-color ties, scarves, and black leather belts with a silver circular hardware. The ladies carried chain-link leather handbags, knit caps, long knit scarves, opaque tights, long boots, thick belts, and thigh-highs.
What's Wearable: The ladies can definitely rock the evening dresses, skinny trousers, fur coats, and A-line skirts. The men will look smashing and slick in the slimming suits and blazers.
What's Not Wearable: I don't know how enthusiastic men will be to sport the feminine-looking leather belt with the circle hardware. And some of the plaid long skirts make the gals look like they just stepped out of finishing school.
Entry Filed under: Men,Runway Reviews,Runway Reviews,Runway Reviews,Trend,Women