February 10th, 2006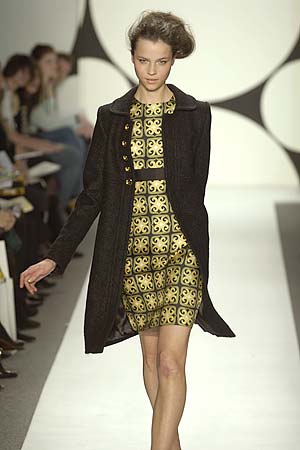 Photo Credit: NY Metro
Key Takeaways: This season, Milly was inspired by the sixties, as reflected in fun retro prints.
Color Palette: Two color schemes comprised the fall collection, one in brown, bubblegum pink and cream, and another sixties-inspired brown/green/yellow/cream/orange combo.
Silhouettes: 1960s Op Art print sheaths, double-breasted and fur-trimmed coats, sheer blouses and tie-neck tops.
Accessories Report: Chain link details, fur trimmed coats, maryjanes and oversized bows.
What's Wearable: Virtually everything. As usual, designer Michelle Smith has paid attention to flattering shapes, colors and detailing.
What's Not Wearable: A few of the sheer blouses need to be worn with something underneath when translating into reality.
Entry Filed under: Runway Reviews,Runway Reviews,Trend,Women