February 10th, 2006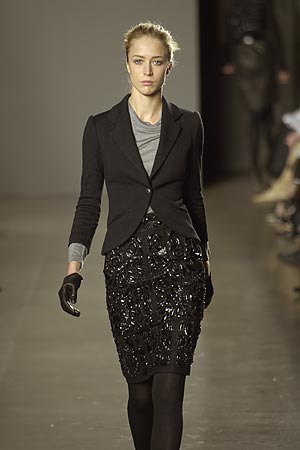 Photo Credit:
NY Metro

Key Takeaways: A rather somber collection of generally slim, tailored silhouette. We noticed Lazaro and Jack's love of the dart, though at times, the collection reminded us of Patterndrafting I's dart manipulation exercise. Key trends included (1) waist emphasis on a higher waistline, (2) oversized collars, (3) dresses over long sleeved shirts, (4) 3/4 sleeve jackets, (5) vests, (6) grecian style draping, (7) fur trim, (8) tights, (9) voluminous sleeves, and (10) asymmetry.
Color Palette: Dark. If you squinted at the runway, all you would see are shades of black, grey, and brown. We also spotted a purple dress in the mix.
Silhouettes: Emphasis was placed once again on the waistline (which sat a bit higher than it did last season). Most silhouettes were slim, though we did see a host of oversized coats, creating a "big over small" silhouette. Classifications included long sleeved dresses, 3/4 sleeve jackets, pencil skirts, belted styles, oversized cape-like jackets, motorcycle jackets, and vests.
Accessories Report: Oversized belts, dark tights, smaller square sunglasses, and short gloves (a welcome break from everyone and their mother showing Long gloves).
What's Wearable: Our favorite look of this collection? A cropped 3/4 sleeve blazer over a grey knit shirt (shown above), paired with a fancy embellished skirt and tights.
What's Not Wearable: Just say "no" to leather pants. You'll thank us when you're older. The oversized collarless jackets are also unflattering to the figure–even to that of a model.
Entry Filed under: Runway Reviews,Runway Reviews,Trend,Women