February 10th, 2006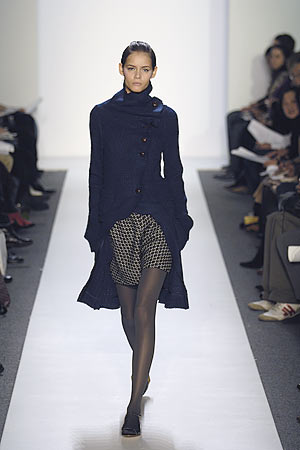 Photo Credit:
NY Metro

Key Takeaways: Once again, the powerful working woman makes an appearance on the runway – but this time, it is a little less fashion-forward and a lot more fashion-function. Chai utilizes his minimalist eye and steps it up one level to deliver a sleek, self-assured collection.
Color Palette: There is a wonderful balance of light colors (creams and beiges), neutral shades (blacks and browns) and the occasional deep color (reds.) Some of the colors stand out even more on some of their basic, yet stylish, prints.
Silhouettes: Plunging necklines compete fairly with modishly exaggerated collars. The high necks are wonderfully appealing, while the wraparound smocks adhere to give an angelic form. Trousers strut confidently on hips, while Chai's coats are remarkably constructed to accentuate girl power.
Accessories Report: Elbow-length gloves add a bit of class to many of the garments, but ornamental pieces of fashion were quite bare in the collection.
What's Wearable: Plain and simple – Chai's outwear is chic and to the point. The coats in various lengths are modestly flirty, but they still exude classiness. More than that, the knit sweater jackets with offset buttons are something to keep your eye out for. All in all, Chai makes wonderful pieces (from everyday work wear to evening garb) that work on the runway and on everyday bodies.
What's Not Wearable: Although he does make outfits that work, some of his dresses look like "Designing Women" negligees – one of them even bears resemblance to maternity wear. Also, the unfinished hems on some of the skirts didn't work well with some of his more polished looks – and what's with the overuse of the black stockings?
Entry Filed under: Runway Reviews,Runway Reviews,Trend,Women