February 10th, 2006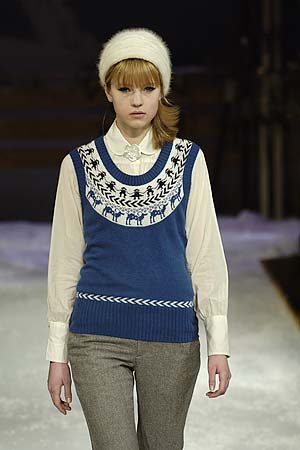 Photo Credit:
NY Metro

Key Takeaways: Inventive Swiss-inspired collection with looks ranging from a sporty equestrian to extras in the Sound of Music to a 1920s-meets-preppy-schoolgirl outfit. Key trends included: (1) Toggle coats for men and women, (2) short sleeved looks, (3) double breasted coats, (4) stripes and solids for men, (5) raised waistlines, (6) vests, (7) giant cuff bracelets, and (8) fair isle sweaters. What did we appreciate the most about Trovata? Even in the simplest of outfits (a v-neck sweater over a button down shirt and slacks), we saw clear attention to detail: the shirt sleeves peeked out from under the sweater a perfect amount–about 3/4 inch–just as they should when a man is wearing a suit blazer.
Color Palette: Neutrals with shots of mustard yellow, olive, burnt orange, purple, sky blue, and bright royal blue.
Silhouettes: Silhouettes were generally slim, but some looks paired a fitted top over a more generously proportioned bottom. For women, we saw short sleeved dresses, fresh looking sailor looks–including a great pair of sailor pants with purposefully mismatched buttons, fair isle sweaters, short sleeved looks, boatneck styles, asymmetry, loose flowy skirts on dresses, cropped pants, striped tights, and sweatervests. For men, we saw striped looks under jackets, plenty of plaid, suspenders, fair isle sweaters, peacoats, and of course, toggle coats.
Accessories Report: For women, giant charms on necklaces, giant cuff bracelets, scarves wrapped around the head Grace Kelly style, hoodie-like hats, knit caps with bills, furry hats, and tights (but of course). For men, we saw untied bow ties, suspenders, and beanies.
What's Wearable: Most of the collection was wearable, but we especially loved the toggle coats and sweaters for both men and women. We also appreciated Trovata's take on the nautical theme: a cropped blazer + a button down striped shirt with yoke + sailor pants with multicolored buttons.
What's Not Wearable: I would skip on the Sound of Music ensembles, but they were just for show anyways.
Entry Filed under: Men,Runway Reviews,Runway Reviews,Runway Reviews,Trend,Women