February 10th, 2006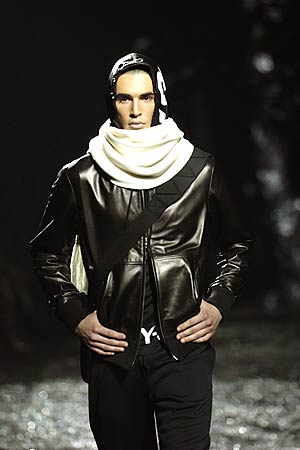 Photo Credit:
NY Metro

Key Takeaways: If there were inhabitants on the moon, Yohji Yamamoto's fall collection would be a perfect fit. From the street b-boy to the woman-on-the-go, this is the perfect metro garb for those who like to look stylishly sporty, but don't want to actually get physical.
Color Palette: A gravel surface of grays, blacks and browns are shot with a temporary dose of primary colors red and blue. Colors may be sparse, but with the manipulated panache he adds, the basic shades become full of character.

Silhouettes: For the men – baggy, yet fittingly masculine. For the women – clean shapes and appropriate necklines that have an emphasis on urban modesty, but still maintain a playful sexiness.
Accessories Report: Hats of all shapes and sizes: beanies (with and without pompoms), ivy caps, paper boy caps, fedoras – they're all there. In addition, sporty knit scarves from the small to the gigantic drape well on both men and women. As always, bags (for both men and women) complement the clothes and warm, knit gloves (with and without fingertips) exude street-smart charm. There was also a recurring appearance of this clunky plastic bead jewelry that was surprisingly very chic—not cheap and toy-like.
What's Wearable: Every single piece (layered or not) in this "urban moonwalker" collection is undeniably wearable. It's obvious that Yamamoto designs boil over with urban flair. His pieces of outerwear like his trenches, blazers and even his shedding mohair woman's poncho, seem very fashionable and functional. Their greatest attribute to his zip-ups is their two-way capabilities – very fashion-savvy, yet refined. To go with his Adidas blood, he gives a nice set of tracksuits, which are great for any person. For women, the trend of sweaterdresses continues. Even though the pieces are fairly basic, they exude an extravagant texture – very thoughtful and effortless.
What's Not Wearable: The sequin appliqué is tolerable, but the scalloped feather look was didn't hit the mark. Other than that, Yamamoto proves that you can never go wrong with simplicity.
Entry Filed under: Men,Runway Reviews,Runway Reviews,Runway Reviews,Trend,Women