February 10th, 2006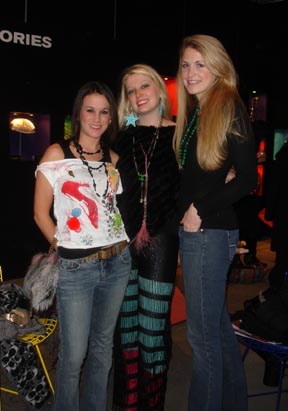 Pictured, left to right: Jenny Dutko, Amanda Dolan, and Claire Lyddan.
Photo Credit: Kelly Nolan
Spotted in the tents right before the Heatherette show…

Jenny Dutko, 25
Occupation:Works for IMG (puts together Fashion Week Daily and helps organize Fashion Week with PR firm 7th on 6th).
Personal Style: Classic with a bit of an edge, I like to combine trends with a bit of funk.
Fashion Idol: My friend, Amanda Dolan (pictured, middle).
Hometown: NYC.
Amanda Dolan, 23
Occupation: Artist, into fine arts, music and fashion– designed Jenny's shirt.
Personal Style:Eclectic.
Fashion Idol: Courtney Love.
Hometown: NYC, East Village.

Claire Lyddan, 23
Occupation: Also works for IMG.
Personal Style: Classic, I love black and everything cashmere.
Fashion Idol(s): Ralph Lauren, Tom Ford.
Hometown: NYC , Financial District.

What's in (collective) for Spring: Lots of white; nautical looks; military influences, especially on jackets; empire waists, belted dresses, espadrilles, skirts.
What's out: Platforms, clogs, Western inspired clothing.
Entry Filed under: Street Style,Street Style,Trend,Women