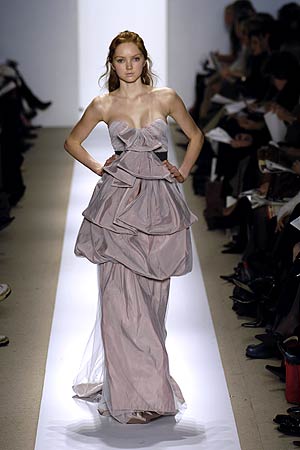 Photo Credit: NY Metro
Key Takeaways: Peter Som's inspiration for this show was said to be My Fair Lady, which translated into updated eveningwear and tuxedos in primarily black and white.
Color Palette: Black, white, a range of steely greys, royal blue, pastel blue, cream.
Silhouettes: Som's tiered, poufy ballgowns were a study in volume. We also saw capes and coats in astrakhan fur, tuxedo jackets paired with long shorts and frocks with shirred, strapless sweetheart necklines.
Accessories Report: Bows, more bows, wide belts, black hosiery, black beaded necklaces and T-strap sandals.
What's Wearable: Lantern-sleeve blouses (pinafore optional).
What's Not Wearable: Black-and-white fur capes and astrakhan coats–unless you're Cruella De Vil.

Add comment February 11th, 2006