February 11th, 2006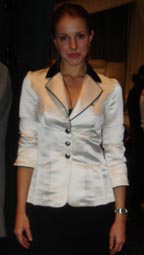 By Contributing Writer Kelly Nolan
Who says the average person can't afford designer fashion?
While we may not be able to afford a $1,200 Luella Bartley bag from Neiman Marcus, we certainly can shell out $30 to $35 for a limited edition "Luella" bag at Target. While Target Luella handbags do not live up to the quality or fabrication details found in a Bartley bag at Neiman, Target does carry bags similar in shape (mainly the hobo) and styling details (such as leather hearts). Price aside, we have another reason to choose Target over Neimans: the bags at Target, with fun colors and off-the-wall materials, are a lot more fun! (Good news: we'll have more opportunities to buy "designer" clothing at Target. The retailer has said it will launch a new international designer clothing line every three months, or a total of four this year. The tight-lipped store has yet to release the names of the other three designers.)
Target follows in the footsteps of fast fashion retailer H&M, who has already launched two limited-supply designer collections: Karl Lagerfeld in 2004, and Stella McCartney in 2005. H&M also sold a designer jewelry collection by Solange Azagury-Partridge for the holiday season last year.
These days, it seems that designers are flocking to mainstream distribution outlets. In 1998, Jil Sander launched an athletic footwear line with Puma, and Alexander McQueen's line with the company is due to launch this spring. Tara Subkoff, a designer from Imitation of Christ, designed a line of shoes for Easy Spirit, the announcement hitting the press during the Fall 05 Fashion Week. The shoes are not cheap, averaging in around $250 a pair, but who's counting, when you can easily drop about $500 on a pair of Manolos?
This year during Fall Fashion Week, yet another designer has announced she will design for the masses. Laura Poretzky (shown above), the 28-year old designer for two-year old ready-to-wear company Abaeté, has signed up with Payless Shoe Source to design a fall collection for the discount-shoe retailer. The price points are much more bearable, at $20 to $40, but they will only arrive in select Payless locations in North America (Payless has not announced which stores it will launch in, but I have a hunch it's going to be the top metropolitan markets, such as New York, Los Angeles and Chicago). Payless will also be selling on the collection on its website starting in August and September.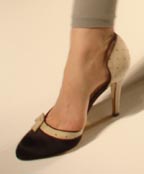 The collection includes four different shoe styles: the "Sky" boot, "Casey" flat, "Oliver" pump (shown, right) and "Luke" evening sandal. Each silhouette features a range of colors (namely silver, purple, navy, and black), fabrics, and details such as stitching, polka dots and bows. Samples of the shoes made their debut on Thursday night during the Abaeté runway show. The collection is the first designer collection ever for Payless, however, some sample shoes for its spring collection (which never made it to stores) were shown on the Lela Rose runway in September during Spring Fashion Week last year.
"It's just amazing for any high-end designer to get the chance to design a well-made product for the masses at an affordable price," Poretzky told me backstage after the Abaeté show. "I'm excited to see my shoes worn by women around America."
The shoes were designed to complement Poretzky's fall collection, which she said had European and Asian influences. The "Sky" boot, for example, was inspired by Luke Skywalker's boot in Star Wars.
Poretzky graduated from the Rhode Island School of Design and worked for a year and a half at Ralph Lauren before leaving to design her own collection. This is her second collection that has been shown at Olympus Fashion Week, but her third overall.
Entry Filed under: News