February 11th, 2006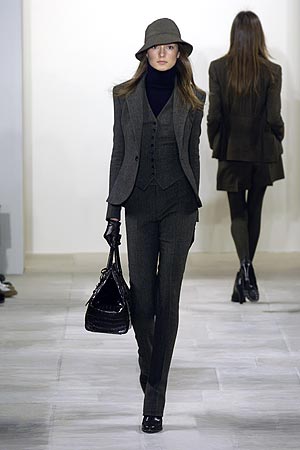 Photo Credit: NY Metro
Key Takeaways: "For fall, I was inspired by the romance and ruggedness of a modern shooting party," Ralph Lauren said of his new collection.
Color Palette: Muddy browns, dark grey, forest green; black, gold and blue for formal dressing.
Silhouettes: A gaming- and hunting-inspired twist on the gamine/gamin look: Equestrian-styled jackets and pants, double-breasted suits, fedoras with feathers. For night, Lauren's classic taffeta ballgowns in blue tartan plaid.
Accessories Report: Thigh-high brown suede riding boots, floppy hats, fedoras and berets, leather gloves all accentuated the feminized 'huntsman' look.
What's Wearable: Well-fitted equestrian-style suit jackets.

What's Not Wearable: We shivered when we saw the turtleneck unitards. That, and painfully drab, ill-fitting articles that epitomize the de rigueur dumpster look.

Entry Filed under: Runway Reviews,Runway Reviews,Trend,Women