February 11th, 2006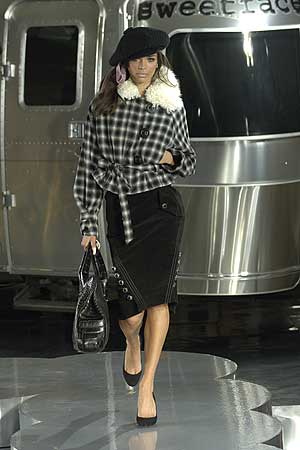 Photo Credit: NY Metro
Key Takeaways:
This relatively new line (which began in 2005) combines the
sophistication of runway offerings with the attitude and sensibility of
the street.
Color Palette: Rose, lavender, navy blue, winter white, black and pewter lame.
Silhouettes: Shearling-lined hoodie jackets, pencil skirts, tapered jeans, sweater-trimmed skinny pants, shirred blouson tops.
Accessories Report: Leg warmers, stiletto pumps, wide belts, newsboy hats and berets, voluminous, teased boudoir hair.
What's Wearable: Virtually everything is wearable on the street–this label is, after all, designed by "Jenny from the block."
What's Not Wearable: The curved press-on nails that adorned the models' delicate fingers.

Entry Filed under: Runway Reviews,Runway Reviews,Trend,Women