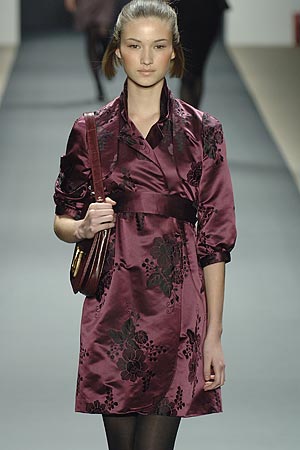 Photo Credit: NY Metro
Key Takeaways: Vivienne Tam has once again created a modern fusion of East and West dressing.
Color Palette: Black wool, grey herringbone, leopard fur, electric blue, plum, purple and cream.
Silhouettes: Blouses, skirts and jackets emblazoned with the signature VT logo; fur-trimmed, belted sheath dresses; frocks topped with sequined dragon patterns; fitted wool skirt suits.
Accessories Report: Hair pulled half-back into severe buns, black hosiery and gold, chain-link purses.
What's Wearable: Trench coats constructed out of traditional Asian floral jacquards.
What's Not Wearable: A plush black coat that would likely serve better as a bathroom rug.

Add comment February 12th, 2006