February 12th, 2006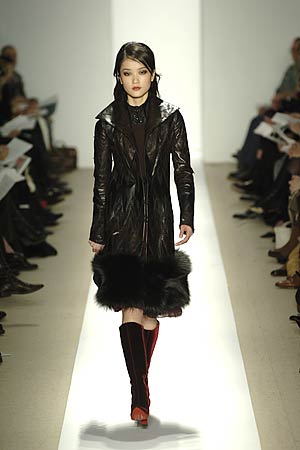 Photo Credit: NY Metro
Key Takeaways: In addition to the expected black-tie gowns and fur coats, Gilles Mendel attempted to add more of an urban look to his collection with pieces like leather jacquard jackets and knit skullcaps.
Color Palette: Black, pewter, slate grey, garnet, plum, burgundy, brown, taupe, aubergine, gold, off-white.
Silhouettes: Cocktail dresses hemmed in fur; leather jacquard coats; wrap dresses with a sheer chiffon trim; tiered column dresses, long, kimono-style dresses with sheer lantern sleeves.
Accessories Report: Knit skull caps, leather and suede gloves, knee-high boots, black-rimmed eyes, a complete absence of jewelry.
What's Wearable: Our favorite J. Mendel dress was a flowy, silver silk column dress gathered at the bust as a lopsided bow.
What's Not Wearable: The odd-looking and pointless fur-hemmed cocktail dresses. Why not wear a fabulous fur coat instead?

Entry Filed under: Runway Reviews,Runway Reviews,Trend,Women