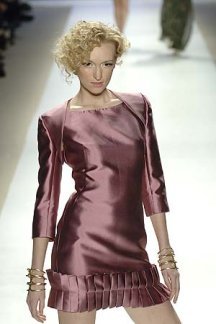 Photo Credit: NY Metro
Key Takeaways: The final four designers of the popular reality show for fashion groupies each showcased a collection – but only three of them will be accounted for on the season's finale. The standouts for each designer are as follows: Santino Rice: unexpected clean looks from the over-the-top designer; Daniel Vosovic: frosty looks of femininity; Kara Janx: suburban granola-eating bohemian; Chloe Dao: sexy society girl who actual has a career.
Color Palette: Santino Rice: Heavy use of browns accented with the occasional autumnal reds and blues; Daniel Vosovic: Blacks, whites, browns and grays glossed with subdued light blues; Kara Janx: very fall, but lighter: fun reds, oranges, browns kissed with sky blues; Chloe Dao: besides the regular use of neutrals – deep greens, endearing blues, and confident pinks.
Silhouettes: With all designers, there was an ongoing theme of high waists. Other than that…Santino Rice: the use of delicate fabrics accentuates the very feminine outlines, but still, there is a very dormant edge. Daniel Vosovic: a balanced look of straight lines and curvy forms – strong shouldered jackets reflect off of perfectly formed skirts, while the casual wear is smoothly straight. Kara Janx: very thoughtful use of the high waist – a nice mix of informal whimsy and feminine flowiness. The dresses and skirts cascade down the body, and her slim cut pant suits shadow the body to a tee. Chloe Dao: a wonderful mix of puffy sleeves and diversified tailoring emphasizes different body parts in the most endearing ways.
Accessories Report: Santino, despite using a cape here and a coat there, barely accessorized. On the other hand, Daniel V. included a quirky, yet stylish, figure 8-handled handbag with one of his pieces. Chloe didn't have anything, but her pieces were strong. Kara had a topical beanie-hat thing with each piece that looked like an everlasting gobstopper.

What's Wearable: Each designer brought something to the table – Santino's dresses are luxurious pieces for day parties and cocktail soirees. Daniel clearly designed for the working woman. His coats stand out as key pieces – very technical, yet creative. He also showed this exquisite pleated white skirt that was like vanilla pudding – simply delicious. Kara had a good handful of mix and match, street-friendly pieces of blazers and slacks that weren't over the top. Chloe's nice prints and fine tailoring give women great day-to-evening wear. One of her best pieces was a pinkish skirt with a detailed pleat adorned on the bottom – very chic.
What's Not Wearable: For the most part, nearly all the pieces in the collection are wearable – and that may pose a problem. There wasn't a real sense of fashion-forwardness woven into these collections – Kara's collection may be the closest thing. Nonetheless, Santino had this corset, puffy sleeved thing that looked like a Victorian S&M costume. Many of Daniel's pieces were too Banana Republic and even though Kara's was pretty forward, there was this layered dress that made the model look like a pregnant cupcake. As for Chloe (my money is on her for the win), she made this unflattering, baggy debutant dress – it was very pre-glamorous drug-addicted Courtney Love.
2 comments February 13th, 2006