February 13th, 2006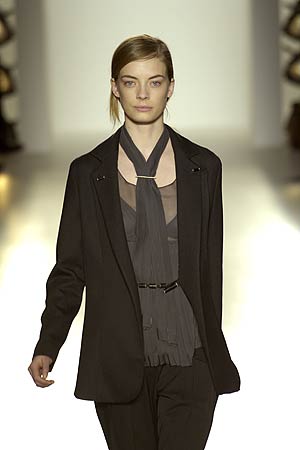 Photo Credit:
NY Metro

Key Takeaways: A study in textures, shown almost exclusively in black. Key trends included: (1) sheer and solid fabrics combos, (2) chevron detailing, (3) bubble skirts, (4) hemlines at mid-calf, (5) fur detailing, (6) cutouts, and (7) long, thin scarves.
Color Palette: Black…and more black, with occasional splashes of red.
Silhouettes: 3/4 length jackets, high waisted styles, deep-v necklines, long sleeved styles, hemlines at mid-calf, bubble skirts, cutouts, and a lot of layering of sheers over solids.
Accessories Report: Thin belts with ingot hardware detailing, and long, thin, scarves.
What's Wearable: We appreciated the concept of layering sheers over solids, but we found the execution lacking in most cases. Where it worked the best: a blazer with thin lapels over a sheer blouse and scarf over a bikini top (shown above). Another winner: the hip-length jacket with oversized collar and cuffs.
What's Not Wearable: The super sheer outfits don't leave enough to the imagination–I can see these being flagged down by the Fashion Police. The mid-calf length skirt lengths aren't all that flattering either, save for the tallest of girls.

Entry Filed under: Runway Reviews,Runway Reviews,Trend,Women