February 13th, 2006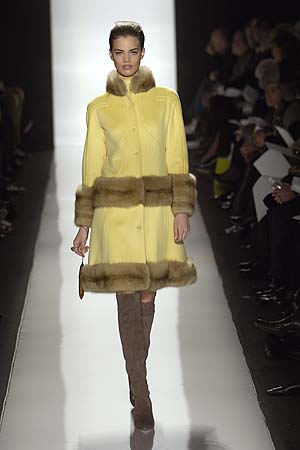 Photo Credit: NY Metro
Key Takeaways: Fur is everywhere in this collection, and it serves as outerwear, trimming, and collars. Fur coats show up both long and cropped and are two-toned. Dramatic dresses were also prevalent, most long and movable.
Color Palette: Everything from black, blue, yellow, brown, fuchsia, off-white, green, and silver.
Silhouettes: Most pieces, especially the gowns, don't cling to the body. There were many spaghetti-strapped short dresses, oversized coats, skirt suits, and an occasional tight trouser.
Accessories Report: Leggings made their comeback. Gloves and clutch purses also were seen. Some models carried (yes, carried) pashmina scarves. Long and thin silver necklaces had a pencil-thin silver object at the base. Arm warmers were also in sight.
What's Wearable: The fur coats will keep anyone cozy on a chilly night. Many of the skirt suits can double as office and going-out wear. Only a handful of the dresses could pass as cocktail-wear.
What's Not Wearable: A tiered lace shrug looks more like a peacock's wings than an article of clothing. White tube dresses with a strap extending from one shoulder to the back of the neck looked like an Easter Sunday dress gone bad. Sure, it's innovative for the runway, but doesn't translate well into the streets.

Entry Filed under: Runway Reviews,Runway Reviews,Trend,Women