February 13th, 2006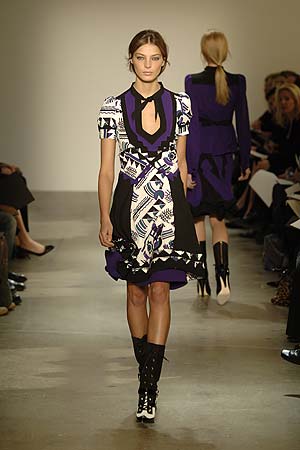 Photo Credit: NY Metro
Key Takeaways: Phi has taken the shoulder pad to a whole new level. Instead of sitting straight on the shoulder like most of them do, this collection's exaggerated shoulders make the model's sporting the blazers and coats look as if they are shrugging their shoulders. Alongside the black, Phi has fused patterns that are busy yet serious.
Color Palette: Mostly black, with white, green, and purple patterns.
Silhouettes: We see more knee-length flowy dresses than we do trousers. Although the dresses are loose, they give more of a night vibe with their puffy sleeves and collars.
Accessories Report: Black lace-up boots paired with dresses mean business. A black leather handbag held from the bulky strap is simple but has a strong presence.
What's Wearable: The exaggerated shoulder may be dissonant to the ears of those who despise shoulder pads, but this look is very subtle and can be worn on fancy occasions. The black trousers are comfortable and loose: perfect for work. A black knee-length coat with white trimming and large buttons is also suitable for work and going out.
What's Not Wearable: Some of the asymmetrical patterns and matronly silhouettes are too loud for the streets. Some look like they belong on "A Little House on the Prairie" cast members. One royal purple skirt suit might even be too conservative for a nun.

Entry Filed under: Runway Reviews,Runway Reviews,Trend,Women