February 13th, 2006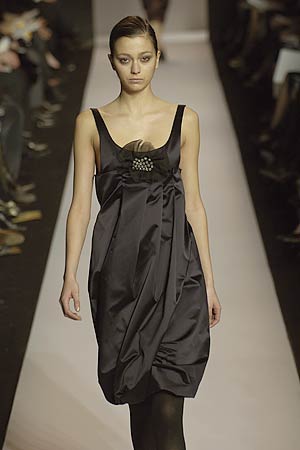 Photo Credit:
NY Metro

Key Takeaways: Definitely not Vera's best collection. She riffs on trends seen on the other runways: (1) high waisted styles, (2) bubble shapes, (3) a-line jackets, (4) sleeved styles, (5) chevron detailing, (6) long gloves, and (7) belts placed high on the torso.

Color Palette: Blacks, greys, browns, and blues.

Silhouettes: Silhouettes were all over the place–we saw high waisted styles, bubble skirts, long cardigans, wrap styles, short sleeved outfits, sheer draped dresses, oversized collars, 3/4 sleeved styles, a-line jackets, and dresses with pockets.

Accessories Report: High brimmed hats, belts placed high on the torso, long gloves, and a feather necklace.
What's Wearable: We especially liked a classic black dress with a subtle bubble shaped skirt (shown above).

What's Not Wearable: A yellow-green number with oddly-placed pleats, ruffles, and feathery straps.
Entry Filed under: Runway Reviews,Runway Reviews,Trend,Women