February 14th, 2006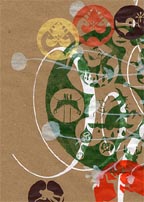 Stroll down the magazine aisle of any bookstore ,and you'll fast realize that there are more fashion publications than one can physically keep up with. And if you pick one up, you'll find more advertisements than editorial. If you're tired of the fluff, try FLY DVD, the first fashion and art "moving-magazine" instead.
"How is watching a film comparable to reading a magazine?" you may ask yourself. The answer lies in the third dimension.
Up until now, the fashion curious have experienced their love of clothing through traditional 2-D print magazines. FLY DVD is bringing to life the outfits (and models) you wish you could see in person. Another reason to dust off that DVD machine is a vital element FLY has that Vogue doesn't: sound. FLY is giving serious fashionistas all over the chance to not only see style in action, but to also hear it. With its integration of film, music, art, fashion, and dialogue, the goal is not only for the viewer to have fun, but also to be stimulated, inspired, and informed even when they step away from the television set.

Though the FLY DVD concept is in its early stages, its players are no rookies. Zero Issue, the very first fashion on film FLY DVD, features the works of established and emerging photographers, filmmakers, animators, artists, and musicians. With 14 fashion films, 6 interviews and documentaries, 9 music videos, Zero Issue includes fashion editors' favorite designers: Calvin Klein, Marc Jacobs, Yves Saint Laurent, Y3, Zac Posen, Boudicca, and Cloak.
Featured in the next issue are contributions from John Malkovich, Alex Antitch, KT Auleta, Mike Figgis, Vanina Sorrenti, and Alex Cayley. Look for designs from Jean Paul Gaultier, Louis Vuitton, Burberry Prorsum, Riccardo Tisci, and more. If you still have no clue how fashion plays on film, visit www.insidefly.com for a sneak-peak trailer of Zero Issue.
Convinced? Buy a copy for your own DVD collection.
$45 (one issue) at InsideFly
Entry Filed under: $20-$50,Birthday,Just Because,Media,Men,Thank You,Women