February 14th, 2006
Designers have always found inspiration in the most unique things: nature, history, obscure inanimate objects, music – but one of the most prolific muses in the fashion is the silver screen. In an odd, coincidental relationship, many of the movies that we see today serve as a launch pad for what we will see on the runway at fashion week or what the "next big thing" will be for the trendy urban hipsters all across the state (and maybe even the world).
If this sounds a bit far fetched, let's flash back to the inspiring cinematic styles of the past.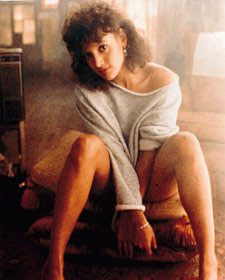 Remember those days of legwarmers and fashionable aerobic attire (circa 1983)? This phenomenon, which can now be seen as a faux pas, can largely be accredited to the sexy stripper-turned-ballerina 80s classic, Flashdance. As soon as Jennifer Beals strutted her stuff in off-the-shoulder sweatshirts and red heels, thousands of teenage girls made sure they had a considerable back stock of all the clothing needed to do a sweltering workout routine to "Maniac."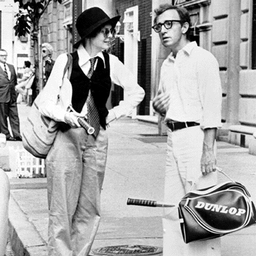 Traveling further back into time brings us to 1977 with Woody Allen's Annie Hall. The masculine, yet cutesy, Chaplin-esque tailored suits and derbies adorned by Diane Keaton were soon echoed by women who fed on the meat of late 70's pop culture.


More recently, we have been seeing styles on screen woven into the chic matrix of modern fashion. When Shrek came out, green was the new black. And not too long after that spotty rendition of the Trojan War came out (a.k.a. Troy), Greek-styled sandals were flip-floppin' on the hip streets of metropolitan cities.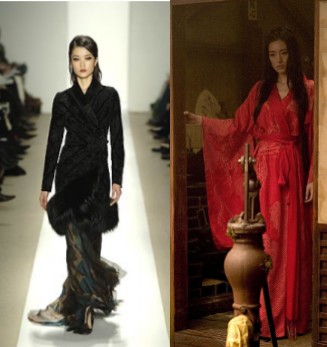 Photos courtesy of NY Metro and Comingsoon.net
This trend theory is even evident in the most recent runway shows at Olympus Fashion Week. Designers like James Coviello, Tuleh, J Mendel, Nanette Lepore and BCBG – all utilized some sort of Japanese influence a la Memoirs of a Geisha. Even before fashion week, top designers Diane von Furstenberg and Stella McCartney stayed one step ahead of the game by creating some suitable kimono tops – take a look at them in this post.
Based on this ongoing fashion forecast, it's only inevitable that the romantic western look of "Brokeback Mountain" will imprint its Oscar nominated claws into the style industry. More than that, the summer may bring sleek X-looks (X-men 3) or even have a color palette of red, yellow and blue (Superman Returns.) Although this can happen, I'm not too sure the world is ready for haute couture by means of superhero movies.
Entry Filed under: Trend, Trend Predictives, What's In and What's Out