February 17th, 2006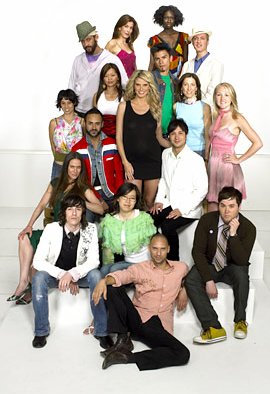 All photos courtesy of BravoTV.com

Fans of the fashionista reality show can rest a little bit easier now that the final three have been announced: Daniel V., Santino and Chloe. This past Wednesday, the final four designers (the three, plus Kara) had to design an evening gown suitable for Iman, the majestic supermodel/diva/wife-of-David Bowie. With such a daunting challenge before the honorable opportunity to show at fashion week, you'd think the designers would pull out all the stops – but think again.
I have to agree with the judges when they said they were "underwhelmed." The pieces they showed were flat out boring. Take a look: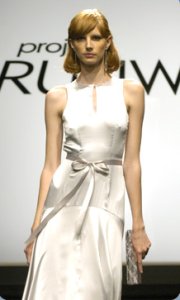 Chloe's Dress: Yawn…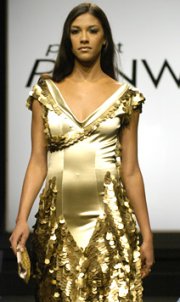 Santino's Dress: Didn't they already do the figure skating costume challenge?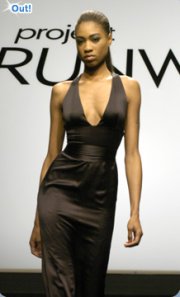 Kara's Dress: Double yawn. I understand why she was eliminated.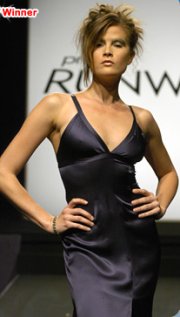 Daniel V's Dress: I guess it's a "winner."

Out of all of them, Santino (although it was a bit horrendous) had the most interesting gown. Everyone else had pretty designs, but as Santino said, they were "safe." They were as exciting as watching curling on the Olympics. It's as though the designers thought too inside of the box, and they put all their focus on the schematics of tailoring rather than vehicular creativity.
Nonetheless, there HAD to be a winner. Daniel V. took the golden pin cushion on this challenge. After seeing the Project Runway collections at fashion week, I am sure a lot of people are going to be a little bit disappointed. We shouldn't compare them to those of last season, but after seeing ingenious collections by Jay McCarroll and Kara Saun, it's kind of hard not to.
The outcome will certainly be interesting. Daniel, Santino and Chloe's collections shown last week all managed to stay in the same vein. But if I had to choose a winner, I am going to go with Daniel…or Chloe…or maybe Santino. I have no idea. Stay tuned for the winner!
Entry Filed under: Features,News,Runway Reviews,Runway Reviews,Trend,Women