February 20th, 2006
Summer may be four months away, but it's never too early to learn about upcoming trends. Even if you've never swung a golf club in your life, it would be to your stylish benefit to sport Celine's Summer 2006 Open Golf line. Inspired by the Couture Sportswear initiated by Madam Vipiana (aka Celine, the founder of the line) and fused with urban practicality, Open Golf ensures that all chic women, golfers or not, can don this half sporty, half preppy collection outside of the putting range.
Color Palette: Tangerine, white, khaki beige.
Silhouettes: Inverted pleats, tartan skirts turned up, Bermuda shorts, cardigans, polo shirts.
Accessories: Beige leather sneakers marked by CELINE logo, ankle socks, beige bag with canvas flap and tangerine leather band, solid white or orange visor.
Where to Buy: In Celine stores mid-March.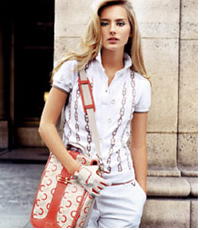 What's she wearing? White Cotton Polo, White Jacquard Chain Print Sleeveless Cardigan, White Cotton Short Pants with Bicolor Belt, Coral Cotton and Linen Canvas C Sulky Long Strap Bag, Khaki Lambskin Glove.