February 21st, 2006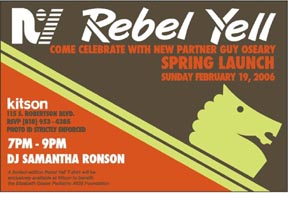 During my whirlwind LA fashion tour, I stopped by the Rebel Yell launch party at Kitson on Sunday. Here's the scoop:
Who Showed Up: The celeb-studded event featured, among others, Ashton Kutcher, Demi Moore, Danny Masterson (That 70s Show), Chris Kattan, and David Spade.
Fashion Trends: The scene was casually cool and unmistakably LA…

Rebel Yell gear, of course.
Sunglasses Worn Indoors: So very Hollywood…and I suppose it worked well on Ashton.
Oversized Sunglasses: The glam oversized look hasn't yet given way to the latest trend: Small and Square Sunglasses.

Wide Ties: Danny Masterson is bucking the Narrow Tie trend. Way to be different.

Wispy Scarves: Great for decoration, bad for keeping warm! Seen on both men and women.

Paint splattered items: For an I-just-painted-a-house-today look.
Velvet Blazers: I guess this trend is still going strong.
The Denim Miniskirt: What can I say…it's LA.
Studded Belts: Yawn.

Really, fashion-wise, it was Everything Goes. I
can't tell you how many people I saw in a hoodie, t-shirt, and jeans
(designer denim, of course!).
The Food: All American Classics: Mini Sprinkles cupcakes, tiny hot dogs in buns, curly fries, ice cream sandwiches, and of course, an open bar.
The Swag: A Rebel Yell duffel bag, limited edition T-shirt and socks, and a scented candle.
Entry Filed under: News