February 27th, 2006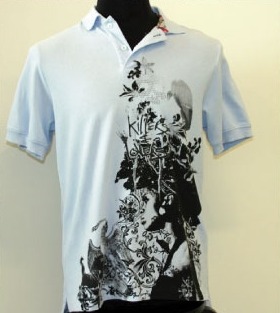 Alexander Erdmann (a.k.a. Alexander 2tone) is one half of the SoCal-based label, True Love & False Idols. With his partner, Alexander Vaz, the duo produces hip-hop inspired men's tops that transcend the concept of street style and meticulous artistry.
The partnership between the two Alexanders developed through an interesting process. As a part of the graffiti crew, L.A.'s AWR Graffiti family, Alexander 2tone clashed with Alexander V's graf clan, the "Klobber Crew." As their rivalry evolved, they often met under challenging circumstances on the the streets of SoCal. Eventually, their differences subsided and they decided to let bygones be bygones. Then, in an unlikely tryst, the two met again at the wake of a mutual friend. To totally squash their differences, Alex 2 and Alex V. collaborated to form True Love and False Idols in remembrance of their friend.
Seen on the backs of celebrities such as Linkin Park's Mike Shinoda, TLFI's stands out from other labels as an unapologetic brand that combines fashion forward graphic design and ingenious versatility. Omiru had the opportunity to talk with Mr. 2tone.


O: How and when did your interest in fashion design start?
A: It actually started because I was a graffiti writer and when I was 16, all the guys that I ran with started doing graphics for a company that is now called Green Apple Tree. I was just always around graphics. I kind of dabbled – did a lot of freelance work –before settling into fashion. It was never really a conscious choice. It kind of ended up that way because I have always been an artist, and it'ss been the area in which my style was most applicable.
O: Based on the origin of the label, what kind of insight have you gained in your personal business life?
A: Basically, it's all about relationships. That's the one thing that has remained true. You're only as good as your relationships with people. It's really good to cultivate them properly and to keep that going because I wouldn't be anywhere if it wasn't for the people I knew. Everything has been through somebody I know.

O: What is the background to the name of your label?

A: Well, the real true story behind it was that I wanted to start a company called "False Idols" and my partner wanted to start a company called "True Love." We just came together and it made sense. If you want to go further into it, with "true love," we are doing what we want to do out of love.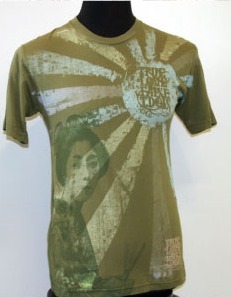 O: What sets your collection aside from those other urban labels?

A: We definitely aren't an urban label. Although we do have those tendencies, we are probably urban by default because of where we come from. You know, our stuff is very designed and thought oriented. We don't really trend spot. We don't really follow what the next guy is doing. The stuff is very thought out. There's a lot of nods, smirks, jokes and a lot witticisms that may or may not be smart. There's a lot of attention to detail – the attention to detail is probably a little overdone because it drives me insane. If you would take the shirts and look through a magnifying glass, you'd find notes in the artwork. I pretty much hand draw everything. I draw every font, every bird, every alligator – whatever the thing is, I've drawn it.
O: Besides punk and L.A. street style, what are some of your more obscure inspirations?
A: Yeah, my inspiration is a bit more obscure. Of course there's music and all that other stuff involved, but I get a lot my inspiration from movies and literature. A lot of my inspiration is probably my own pathology. It's my own problems, issues and thoughts. Like, whatever is there, I'm grabbin' it, usin' it and stickin' it on a shirt.
O: What are you tired of in fashion?
A: To say we don't trend spot is kind of a lie. I am very aware of what's going on. But the thing I do hate in fashion is the fact that when a company does well, there are five or six companies that emulate that style. I think that's kind of boring and it plays that company out.
O: One of your shirts stated, "You're only as good as what you steal." Do you try to intertwine some sort of social message in all of your clothing?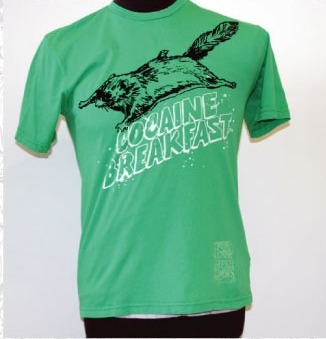 A: There's no trying involved. It's just gonna happen. I have another shirt that has a flying squirrel and it says "Cocaine Breakfast." It makes no sense, it's ridiculous, and people love it. It's pretty much me – I am really serious and pretty silly at the same time. I have another shirt coming out in the summer – it's got a little social commentary on it. It says, "Praise the Lord, Pass the Ammo." It's got an M-16 and a cross – those are big no-no's for department stores. I mean, I can't help it – I'm 31 years old, I listen to NPR – I'm not a bimbo, you know what I mean? It's not like I am sitting here watching MTV all day. I'm really aware of what's going on. It bums me out because this is my only outlet at times. On the other hand, I will do the goofiest things you can imagine.
O: How do you keep the style of T.L.F.I. from becoming too "ordinary"?

A: We're about to go into a project for fall and as far as pushing the envelope, we definitely pushed the envelope to the point to where I don't know what we are going to do next season. We really over-design everything. We take it as far as we can take it, without it it just being obscene.
O: When do you think you will be 100% with your fashion career?

A: Never. As soon as we get our sample, I'm in love with it, I go nuts and then by the time production hits, I can't stand it. I don't even want to look at it. I can't even wear my stuff because I am just in it so much – I just hate everything (laughs.) It's just from being exposed to it too much – I just need to take a break from it. Once I do something really good, I'm like, "what's next?" I'm already planning in my head how to improve it.
O: Your clothing has already been selling at Nordstrom, M. Frederic and Fred Segal. Do you plan on expanding to other stores? If so, which stores?

A: My thing is to grow within our means. At this point, it's two guys running the show. Being that I am already here too much as it is – I can't be here any more than I am – I just want to keep it within our means. Also, I don't want to burn out the brand. You know, we could've thrown it in any major store that we wanted to blow it out to make some money, but we are trying to establish some longevity and build a good base.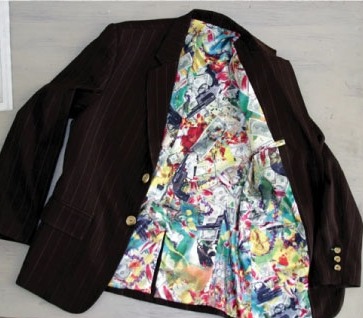 O: What fashion season do you prefer? Fall or Spring?

A: I grew up in Venice by the beach – and it was the spring season. But after we did fall – man – I loved the jackets and hoodies and what you could do. I'd say spring just for the colors and the casual, but fall for the jackets. But you know what? I like fall because it's an excuse to layer some stuff.
O: What was second on your career list to fashion?

A: Actually, I went to UCLA film school. I'm still keepin' my eye on that. I still write and do all that stuff. That's where I get a lot of inspiration from – my writing. Honestly, at the end of the day, that's where I plan to end up. At the end of the day, I just want end up sitting at home writing. I mean, this is really fun, but I maintain those other interests because I don't want to forget about it.
O: What clothes have you worn that you are now ashamed of?

A: Oh sh*t – I don't know. I would like to say Cross Colors, but I don't think I actually bought any. Actually, I just admired it from afar. That whole era – I mean, when I was a kid, I was into graffiti and rap – that was my whole thing. That's what I came up in. It's still there, I'm just a lot more subdued. There has to be a ton of embarrassing sh*t. I used to wear PNB and Triple 5 Soul back in the early 90s.
O: If your house was burning down and you could only keep one thing in your closet, what would you keep?

A: It would be one of my brims – one of my stitchy brim hats. I'd have to take one of those because they are a constant with me.
O: What can we expect from T.L.F.I. in the future?

A: In the near future, I'm thinking we are going to keep progressing forward. Basically, our thing is reinterpreting everything. We're not a couture line. I don't have a heavy fashion background – my partner does – but my whole thing is that men want to wear things that are comfortable and casual. We are bring the design aspect of everything to the highest we can take it.

For more info on True Love & False Idols, check out their site: www.trueloveandfalseidols.com

Entry Filed under: Designer Profiles,Features