March 6th, 2006
Julie Garland is a jewelry designer that truly embodies Omiru's mission of "Style for All." Her designs aim to be timelessly beautiful, and her affordable price point (most designs are under $50) keeps her collection accessible.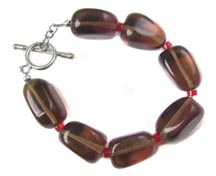 Omiru: What makes your collection unique?
Julie: The mix of materials, the variety of designs and the price points. I use wood, suede, leather, gemstones, glass, and crystals – a little bit of everything really! I don't feel like I have to stick to one medium so I experiment with whatever catches my eye. I also think the collection offers a great mix. From big and bold to dainty and delicate, there are classic, minimalist pieces but also more elaborate, intricate ones. The collection is really affordable too – quality designs for prices that won't break the bank!
O: What's your design philosophy?
J: I try to create timeless styles that mix simple lines with gorgeous color combos and playful accents. I design the pieces to complement any look – whether it's dressing up or going casual chic!

O: Who do you design for?

J: I design for women of all ages - women that like pieces that are classic but that also incorporate current styles and trends. I design jewelry that I want to wear and hope that others appreciate its style and see the pieces as something they can make their own.
O: What's your definition of style?
J: Put simply, I think style is the creative way you express yourself. People with great style express themselves with imagination and individuality.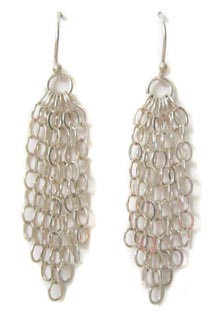 O: How has your style evolved over time?
J: I used to be much more of a slave to fashion trends, but now I think I'm savvier about choosing styles that work for me. I also think I'm better at punching up a look by picking the right accessory - whether it's an oversized bag, a long scarf, or a bold, colorful choker.
O: What are you inspired by?
J: I can be inspired by something as simple as the color or shape of a gemstone. Or it could be an overall look I admire and am motivated to create pieces that work with it. I'm also a fashion website and magazine junkie. Inevitably something strikes a chord, and I start designing!
O: Are you high maintenance or low maintenance?
J: I'd have to go with high maintenance. I'm a perfectionist always trying to do things better, and I probably stress too much about little things.
O: How did you get started designing jewelry?
J: I guess the story starts with the season I spent in Puerto Vallarta working in marketing/PR for a chain of high-end jewelry stores (escaping winter and practicing Spanish were just lucky bonuses to the job!). I fell in love with all the beautiful gemstones surrounding me. After my stint in the tropics, I settled in Dallas, TX, and immediately began taking jewelry-making courses. I was hooked! It started as a hobby, but soon I was designing for family and friends. I decided to launch Julie Garland jewelry in the spring of 2005.
O: If your house was burning down, and you could only keep one thing in your closet, what would you keep?
J: A pair of Blue Cult jeans that are perfectly worn in.
O: What clothes and/or accessories have you worn that you're now ashamed of?
J: Overalls and acid wash…I've already burned the pictures!
O: What up and coming trends do you see?
J: The nautical look, skinny pants, feminine lace/crochet accents, cropped pants, shirtdresses and neutral colors. As for jewelry I think long and layered necklaces will remain popular. I think we'll see romantic components like filigree and flowers and also big chains, chunky chokers and earthy jewelry with wood, turquoise and shells.
O: On the flip side, what's going out of style?
J: I'm not sure anything ever really goes out of style! Just wait a while and it will be recycled back into the fashion mix, but without Jessica Simpson pushing the Daisy Duke look, I don't think cowboy boots have that much staying power.
O: What's up next for your online store…and your next collection?
J: I'm constantly adding to the collection! Every few weeks, new designs are posted. In the next six months or so I'm hoping to expand my product line to include big, bold rings and to offer unique metalwork done by my own hands.
See more of Julie Garland's jewelry designs at www.juliegarland.com.
Entry Filed under: Designer Profiles,Features