March 6th, 2006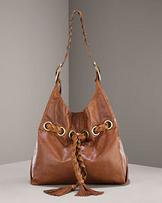 …just might be the Kooba Carla, a slouchy, braided leather hobo. We predict that Kooba, which has garnered press for its Sienna bag, is going to make a hit out of this bag: It's been front and center in every fashion magazine and on every retailer's web site.
What do you think will be the Next Big It Bag?
$650 at Neiman Marcus.
Entry Filed under: $500+,Price Point,Shop in Style,Shopping,Women's Accessories