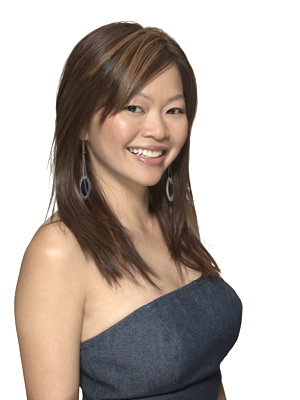 Photo courtesy of BravoTV
After months and months of intense garment making challenges, the illustrious reality show has finally found its winner: Chloe Dao. The petite designer from Houston, Texas beat out larger-than-life designer Santino Rice and the fresh faced Daniel Vosovic to be America's next top designer. This is good and all, but it was a bit anticlimactic.
A couple of weeks before the show's finale, many people had the opportunity to check out pics of the Project Runway show at Olympus Fashion Week (check out my take on the show here.) I, like Michael Kors, was a bit underwhelmed. The most compelling "twist" to the show's finale was that they had to make a 13th piece to add to their collection. Without a doubt, this added a ton of stress to the already burnt-out designers. But, they pulled it off, and all three of them showed collections that were decent, but not necessarily fashion-forward and interesting.
As for Chloe Dao winning, I halfheartedly agree. I would've felt the same had Santino or Daniel won. When all was said and done, the sleepless trio stood on the runway for the final judgment by Nina Garcia, Mr. Kors, Heidi Klum and actress Debra Messing (why she was there, I have no idea.) They had a lot to say (both good and bad) about the three designers, so I understand why the final choice hard for them. It was difficult because all three designers were at the same level, and there wasn't anything THAT exciting about the collections. It was like trying to pick your favorite brand of toothpaste – they all do the same job, but choosing the perfect one is an annoyingly daunting task.
At the end, I totally agree with almost every single word the judges said. Chloe's collection was thoughtful and cohesive. Her tailoring skills are unbelievably remarkable. Granted, I didn't necessarily like the prints she chose, but out of the three, it did shine. That is, it didn't shine too brightly, but it did stand out.
When it comes to Daniel, there wasn't a clear "story" in his collection – and what was with those handbags? All of the garments seemed like separate pieces in the juniors department at Macy's – however, he does have broad versatility.
Finally, there's Santino. This show was his chance to make the most avant-garde garments – but he chose the "safe" sophisticated route. Given his personality and his previous designs, this just didn't work. I wanted to see his creativity balloon to the point of excitement, but to my dismay, I was just nodding my head in agreement with the subtle beauty in his pieces.
I try to avoid comparing this season to last season because Chloe, Santino and Daniel each have a totally different voice from Kara, Jay and Wendy. With that said, I'm sad to say that I really didn't care who won this season. I am happy for all three of the talented designers, and I admit that I was excited to see the outcome, but after the winner was announced, I immediately changed the channel…right to American Idol.
Add comment March 8th, 2006