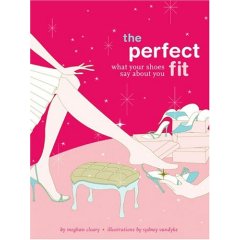 Be one of the first 100 shoe lovers to purchase a $50 pair at Macy's Union Square on Thursday, March 16 (6-8pm) and you will be rewarded.
Not only will you have yourself a new pair of smashing mules or pumps, you will receive a signed copy of shoe guru Meghan Cleary's (aka Miss Meghan) book The Perfect Fit: What Your Shoes Say About You. What's more, you'll go home with a gift bag of shoe surprises including a $25 Macy's gift card. Hmm, we wonder what you'll be spending that on! The hottest Spring styles will be available from Nine West, Enzo Angiolini, Circa Joan & David, AK Anne Klein, and Bandolino.
Remember to choose your shoe style carefully–you never know what it might say about you.
To attend the free "Luv Shoes" tour, call 888-266-1686 for reservations. Other dates: Fresno: March 14, 6-8 pm, Sacramento: March 15, 6-8 pm, San Jose: March 18, 2-4 pm.

Add comment March 13th, 2006