March 22nd, 2006
One might think that a designer whose line is sold in
the celebrity-magnet boutique Kitson might be a bit of a diva, but Andi
Ballard of Rebel Yell is as down-to-earth as they come. Even despite
her living in the crazy city of Los Angeles, the Virginia-born Ballard
admits to being a bit of a homebody and doesn't get star struck by her
celebrity clientele. Omiru got a chance to chat with Andi while she was
sitting through LA traffic.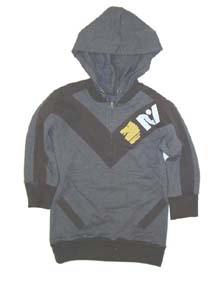 How and when did your interest in fashion design start?
This
is going to sound so corny, but I knew what I wanted to do my whole
life. I would make clothes for myself, and they looked so ghetto
because I'd make them out of towel and whatever I could find around the
house. It was quite a spectacle. I graduated from high school at 16 so
I could start my fashion thing quicker, and I went to FIT in NY. I
graduated from college at 18, and I worked various design jobs in NY
for about 4 years.

What makes your collection unique?
Every
designer is going to interpret something differently. So I would say
that the uniqueness is mainly the way I see things and the way I decide
to interpret them. I love bold colors, I love really really simple
clean graphics, really simple easy clothes.
What are you inspired by?
I
am primarily inspired by anything and everything vintage. But I am also
inspired by what I want to wear. I love vintage clothes, but I steer
away from them because I just feel like a haggard when I wear them.
However, my love of vintage shows in the details I add into Rebel
Yell. I try to make Rebel Yell clothes more updated. It just makes a
woman feel better about wearing vintage.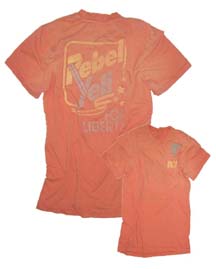 Do you follow trends?
I follow fashion because
I'm a girl and I shop like crazy. In that sense I know what's going on
trendwise, and I also know when I want something and it doesn't exist.
It's very helpful when you're a designer because you can then design
it. But do I follow trends? No. My previous experience as a designer
when I was in New York was all about using the trend books to do all
the forecasting. A few of my bosses actually told me 'You cannot do
your original design. You have to knock off blah blah blah.' And so now
that I have my own company, I definitely made a conscious decision to
not follow trends.

Can you describe what pieces are in your collection and who wears your collection?
The
pieces in my collection are causal, mainly made out of cotton:
T-shirts, different types of cute sexy tops for women, and hoodies. We
have really cute coordinating hoodies with sweatpants that are coming
out. It's mainly a casualwear collection. But it's definitely for
someone with style. I don't really want to see it on people that just
wear what's on the mannequin. I want someone with their own personal
judgment.

If you were to design a new product line to add to your current business, what would it be?
I
am dying to get into sweaters and into underwear. I'm itching to do
that, and that's the next step. I just want really cute … the problem
is that companies put out really fun and cute stuff, but it feels
cheap. On the other hand, a company can put out really good quality
stuff but it's so boring and typical. I want to do a hybrid.
How has your style evolved over time?
It
doesn't really. It kind of stayed the same. I'm super t-shirt and
jeans. Six-and-a-half days a week, I'm wearing a t-shirt and jeans.
Do you care about what you wear?
Well,
I don't have time to think about what I wear, and that's part of what
Rebel Yell is too. It should be something that doesn't take too much
thought. You throw it on and feel good about how you look.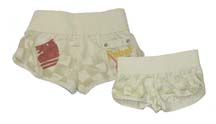 What's
your definition of style?
I
think everybody can have style if they want to, but I think there's a
lot of people that don't right now. I would define style as when
someone puts an outfit together and it looks good even if it's not
something that you would necessarily put together. Style is when you
look at the outfit on them and it matches their personality.
If your house was burning down, and you could only keep one thing in your closet, what would you keep?
Ok, am I naked when my house is burning down or am I fully clothed?

That's a very good question. I think you're naked.
A
bath robe (laughs). I don't know if I'm naked. I would say because I'm
such a simple girl, and I'm always in a t-shirt and jeans, I would grab
my Mr. T gold chain. It jazzes up any outfit I'm wearing.
What does Rebel Yell mean?
It just popped into my head. My favorite rollercoaster as a kid was called Rebel Yell [in Virginia]. It fit.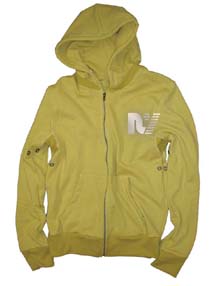 I noticed you did your Spring launch party at Kitson in LA. How did you go about making that happen?
We've
just gotten great support from very successful and talented people and
[Kitson owner] Fraser [Ross] is one of them. He's one of our biggest
supporters. We were having lunch with him one day, and he suggested the
idea of a party. It's something we had been thinking about too, so it
just made sense.
What stores is Rebel Yell in?
Kitson, Lounge, Intermix. We're in all the boutiques I've ever wanted to be in.

Do you have a website?
We don't. We're
debating about whether or not to do one. I think we will eventually, but
I don't know. Something about having a website weirds me out. I feel
like all of a sudden there's no mystery left if people know too much
about Rebel Yell.

Like what you see? Shop for Rebel Yell gear at Kitson!
Entry Filed under: Designer Profiles,Features,Men,Women