March 30th, 2006

Many guys will agree; it doesn't get much better than seeing a beautiful girl…and another beautiful girl. Get your mind out of the gutter! I'm not referring to anything PG rated, but instead to LA artist Win Lin's limited-edition anime graphic tees at Urban Outfitters. There's a racerback cotton style for every type of gal: "Insecure," "Liar," "Vain," "Annihilator," and "Lachrymose Baby." If you like none of these, just choose the fine art portrait you think looks most like you! Omiru got a chance to talk with Wil.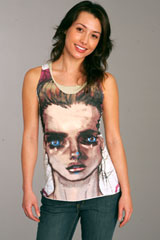 Omiru: How did the collaboration with Urban Outfitters start?
Wil: A buyer from UO serendipitously visited a Los Angeles boutique where I was having an art show in 2003. She bought some of my artwork and contacted me nearly a year later to see if I'd be interested in doing a collaboration with them.
O: What was the process of making the tees?
W: UO determined the material, cut and finish of the garment, we talked over the color options, I pitched for their approval a set of words and images I thought were thematically consistent, and I recommended where to place the images and the words. All of it happened very quickly–they accepted everything right away.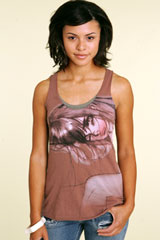 O: From where do you draw your inspiration?
W: I usually draw to vent some perceived injustice or injuries on my ego– usually triggered by those who I desire or desire to be. I believe this insufferable side of me can be made more palatable when it is delivered in the form of an attractive human face or figure. Technically or stylistically speaking, I used to consume copious quantities of fashion magazines throughout the 90s and I practiced drawing Linda Evangelista almost daily throughout the height of her popularity, so my style definitely reflects that aspect of my life history.
O: How long will the tees be available?
W: I am not clear on how long UO will be stocking the three designs I currently have in their stores, but I know that four new designs will appear in UO stores either this month or next month. I am still working with them, and I think they are shooting for a mid-summer release of some new items–whatever it is that I come up with.

Like what you see? Visit Urban Outfitters to get yours for only $28.