April 3rd, 2006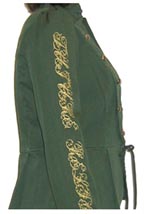 How did Future Relic come up with the design?
Designer Paul Kim says, "We always had a military tongue in cheek approach to our men's tees, and a lot of women had been asking us to do some womens articles of clothing. Looking through a history book, I came upon photos from the Civil War that looked rather dapper. After some consultation with a designer, we came up with the jacket and then decided to print a decorative font on the sleeve with our brand name to give it a little more embellishment."
If you like it, buy it now! The jacket was made in a Limited Edition of 24. Paul's advice: pair it with a simple tank, or a gypsy-style top!
$120 at Future Relic.
Entry Filed under: $100-$250,Women,Women's Fashion