April 3rd, 2006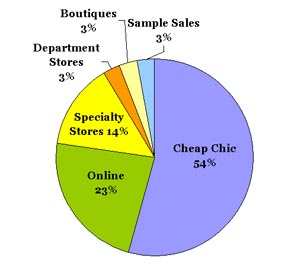 We asked: Where's your favorite place to shop?
You said: With 54% of the vote (mind you, this poll was completely unscientific), Cheap Chic rules! Coming in second, with 23% of the vote–online shopping. Specialty stores finished third, with 14% of the vote, and Department Stores, Boutiques, and Sample Sales all came in last, with 3% of the vote each.
Omiru's take: Can't say that we're surprised about the popularity of Cheap Chic….what's not to love about fashion forward styles at dirt cheap prices. Perfect for trends that you would only want to sport for one or two seasons. Online also had a strong showing, reflecting the growing acceptance of buying style items without the benefit of trying them on first.
We were somewhat surprised, however, by the seeming unpopularity of sample sales. Perhaps it's because of how we worded the question–what's your Favorite place to shop. We love a good sample sale (though they're few and far between), but for practicality's sake, we do most of our trendhunting at Cheap Chic stores. Oh how we love H&M!

Next Question: What do you think about Nautical fashion? Is it In, or is it Out? Cast your vote on the sidebar!