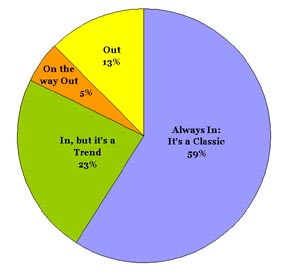 We asked: Is Nautical Fashion In or Out?
You said: Looks like Nautical Fashion is still in. Most (59%) see Nautical Fashion as a Classic, and another 23% believe that it's a trend that's still in style. Only 13% think it's Out of style, and another 5% consider it on the way out.
Omiru's take: We're fans of Nautical Fashion, and we definitely think it's still in. While we do see it as a classic (think: navy blue, crisp white, and Ralph Lauren advertisements), it's definitely being hyped as a trend…as it has been for the last couple of seasons. While we're wearing the trend, we're being mindful of going overboard.

Next Question: What do you think about Leggings? Is it In, or is it Out? Cast your vote on the sidebar!

1 comment April 10th, 2006