April 17th, 2006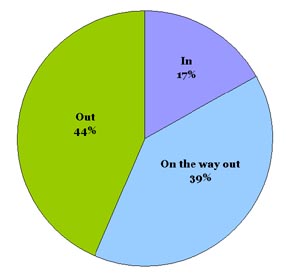 We asked: Are Leggings In or Out?
You said: It seems that Leggings are Out of style. Only 17% of you think they're still in style, and a whopping 44% say they're Out. And another 39% say that they're on the way out.
Omiru's take: Though the throwback to the 80s was charming for a short while, it seems that the romance of the past (at least with these leggings) is over. The problem we see with them is that they're just not super flattering. The short-skirt-over-leggings look that seems to be this year's frilly-skirt-with-Uggs works for the uber-leggy, but what about the rest of us? And given the wealth of other fashion choices out there, aren't there more flattering options? Leggings were fun while they lasted, but it's time to move on.

Next Question: What do you think about Skinny Jeans? Are they In, or are they Out? Cast your vote on the sidebar!