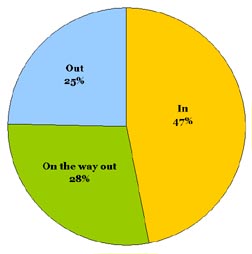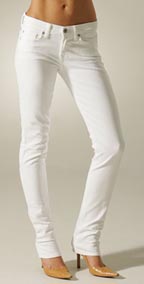 We asked: Are Skinny Jeans In or Out?
You said:
It seems that Skinny Jeans are still in style…for now. Almost half (47%) of you think they're in style. However, 28% think they're on their way out, and 25% believe that they're already Out.
Omiru's take: While skinny jeans appear to be hanging on to their place in the spotlight, don't count on them sticking around for too much longer. Already, they're seen as passé in Britain, and they seem to be losing their appeal in the US, albeit slowly. We like the look of skinny jeans, but we find them difficult to wear, as they accentuate figure flaws. If you do sport the look, we recommend pairing the jeans with heels to elongate the leg. Flats provide a more casual look, but we caution against them unless you have the leggy figure of Sienna Miller.

Next Question: What do you think about Military-inspired fashion? Are they In, or are they Out? Cast your vote on the sidebar!

6 comments April 24th, 2006