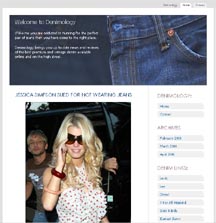 What's new in the world of denim? Omiru got the scoop from Andy Knight of Denimology, a new UK-based site that brings you news and reviews of the best premium and vintage denim.
Omiru: What do you think about the future of the premium denim industry?
Andy: I don't think that the premium denim industry is going anywhere soon. I predict that more niche denim manufacturers will start producing products such as Cheap Monday's budget premium denim collection priced at around $50 for punk looking skinny jeans or PRPS who produce super high end ($300+) highly distressed denim for men.
O: What's up next for premium denim brands?
A: This year, women are going to see less faded, distressed, bootcut jeans and more super skinny dark jeans like those from J Brand. Men's collections are also going to see more heavy dry unwashed selvage denim such as the Nudie Dry Denim range.
O: What's your take on why premium denim skyrocketed in popularity over the last half decade?

A: Consumers were sick of being sold poor fitting jeans made of low quality denim that made everyone look like a grease monkey. Female consumers quickly realized, with the arrival of premium denim, that it was worth paying the extra money for a pair of jeans that made you look fantastic and that you could dress up or down. And men, of course, enjoyed looking at the women that were wearing those premium jeans.
O: What inspired you to start Denimology?
A: I was spending a lot of time searching for the perfect pair of jeans. I thought, "Surely I can't be the only person like this," so I started a blog for all the other denim addicts out there.
O: Tell us about Denimology.
A: Denimology is dedicated to denim addicts everywhere. It is updated a couple of times a week with the latest news and photos of premium and vintage denim.

O: Anything we forgot to ask?
A: What's my current favourite pair of jeans? Nudie Regular Ralf Dry Selvage.
Read more about denim at http://www.denimology.co.uk/.
1 comment April 26th, 2006