April 26th, 2006
If you think trying to match clothes is hard, try trying to NOT match them. "How
does that make sense," you're thinking. "I thought the point of mismatching is that you don't care enough about style to take the time to put together corresponding ensembles." Although in the past matching clothing was synonymous with caring about fashion, today there's a certain style to the I-look-like-I-just-threw-on-these-clothes-in-the-
dark-but-I-really-spent-quality-time-hand-picking-them look.
When mismatching your outfit, remember that it still has to look somewhat put-together. Yes, the point is to look like you threw on your outfit in the dark, but no, it's not supposed to make you look like you could care less about what you're sporting. Our favorite mismatched look? Don a big, colorful skirt and with a vintage rocker tee, a fashion formula courtesy of our fellow fashionista Agathe at Style Bytes.


Ramones Modal Tee | $28 at Urban Outfitters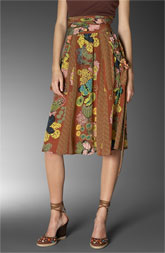 Nanette Lepore Big Pocket Skirt | $280 at
Nordstrom
Entry Filed under: Ready Made Outfits,Women