May 2nd, 2006
Jewelry designer Patricia Candido is living the American dream, literally. Though she left tropical Brazil for hectic L.A. with her American husband a year ago, the move was a smart choice for her career. In less than a month after launching her collection, she gained a loyal fan base that includes Hollywood heavyweights Halle Berry, Oprah Winfrey, and American Idols Carrie Underwood and Bo Bice. Omiru had a chance to catch up with Patricia to dish about her sudden success, her appreciation for the American culture, and how her name has graced the pages of major fashion magazines.
Omiru: You went from working in public relations to telecommunications and now to jewelry design. How did you decide to get into jewelry design, and was it always a passion of yours?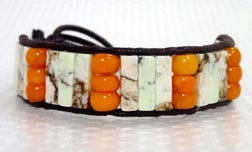 Patricia: Well, jewelry has always been my passion, but when I was living in Brazil, I had almost a 15-year career in public relations. My husband is actually American, and he was living in Brazil with me; we decided to move back here. I did not want to go back to communications school to get more education, and I didn't want to spend another 2-3 years in a university when I was already 20 years old. I did not have a work visa. To kill some time, I was just making little bracelets with plastic beads. I showed my husband, and he said "This is really pretty, but I think with plastic beads we'll go nowhere. What about if we change the plastic beads to semi-precious stones, and go with silver and precious metal?" That's how we started to refine the design. When I very first began to make jewelry, I had around 10-15 pieces in a tiny box, and every time I was wearing something, people would approach me on the streets saying "Where did you get this?" So I started to feel that there was really something there.
O: From where do you draw your inspiration?
P Most of my inspiration comes from the Indians in Brazil and the way that they adorn their bodies. It's different from the American Indians. The only thing the American Indians wear are feathers. In Brazil, it's a tropical culture; the weather is not cold. I started to look into their colors and all the feathers that they used and all the color combinations. That's my focal point.
O: Are your designs sold in Brazil?
P: No. The fashion industry in Brazil is getting really big, and just like here, they have many different label designers and boutiques. They're really into American fashion and European fashion, and we've been talking about that. It's something that's down the line.
O: What makes your collection unique?
P: My color combinations. I always go for bright and strong colors. Also, it's very organic looking. I use precious metals and precious stones and feathers. Then you have amethyst, then you have 14 karat gold around it, then you have onyx. I basically try to use all the fantastic stones that I can find.

O: I noticed that a lot of celebrities are starting to wear your jewelry line. How does it feel to see your name in major magazines?
P: Oh my God, it feels fantastic!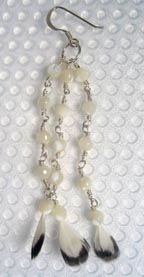 O: How did celebrities start hearing about your designs?
P: When I first started to think of jewelry design as a business, I didn't know where to go. My whole background was selling news, working behind the doors. I didn't have any experience in sales. One day, I came to Venice Beach to sell my stuff–it wasn't the right place. Later, I went for a walk on Sunset Boulevard and went into a boutique. The owner of the boutique came to me and said, "The bracelet you're wearing is gorgeous. Who is the designer?" and I said "It's myself." She asked me if she could sell it. Of course! One week later, Halle Berry came by and bought all the inventory I had in that store. Halle came back several times. All in all, she bought more than 200 pieces of my jewelry. She also gave my jewelry to Oprah Winfrey! And that's not all. One stylist who saw one of my chokers in a boutique in Beverly Hills put it on Barbara Streisand in "Meet the Fockers." And all this happened within a month!
O: How long ago was this?
P: Only about a year ago. My line is still brand new.

O: Have you gotten a chance to meet your celebrity clientele?
P: A couple. I've met Rosanna Arquette. There's a newcomer actress named Marcelle Larice. She's doing a show on UPN with Jenny McCarthy. We actually became friends.

O: Do you think that you'll start branching out into other accessories?
P: I have been approached by many shoe and handbag designers about incorporating my styles in their creations. In the future, I will definitely be launching a shoe line. First a handbag line, then a shoe line, and further down, a clothing line. It's all in my business plan.

O: Is this your last career choice or will there be others?
P: I hope not. I really would love to write a book about all this–for me it's really an American dream come true. I came from Brazil. When I first moved here, I had a very hard time speaking the language and it was such a challenge for me to go to boutiques. At the beginning, I started to sell my jewelry myself. I didn't have any sales reps, any support. It was really overwhelming to go to places and see people's reactions. Also, it's great to see how American people are so open to foreigners.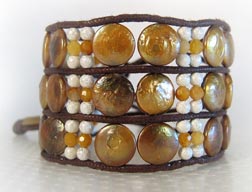 O: Most jewelry designers focus on women's pieces, but you've successfully branched out into men's jewelry. Why did you feel it was important to include pieces for men?
P: My husband was at Starbucks wearing one of my bracelets, and the stylist for American Idol at that time – that was when Carry Underwood won – approached my husband, and they decided to have one or two pieces for the show. Bo Bice wore one of my bracelets. My designs are especially for guys who are involved in fashion, for men who are not afraid to pull a piece and go with the whole fashion statement. I have a line of silver bracelets that are very simple. They're very striking and do really well with men.

O: So was your husband wearing a piece from the men's line or the women's line?

P: No! He was wearing one of my pieces called Africana. It's all in cashmere gold and orange coral.

O: What is your favorite piece from your collection?
P: Usually my favorite ones are the ones I created recently. I love the whole Africana collection. And I love the new line of earrings I'm working on right now that will be launched in mid-May.

O: How many stores carry your line?
P: I'd say 100 stores in the U.S., around 20 in Japan, and a couple more in China.
O: Last words?
P: I am very grateful for all the wonderful feedback I've been getting. It's been very overwhelming!
Like what you see? Look for Patricia's designs at Fred Segal (LA), Margaret O'Leary (NYC), and the Caesars Palace Forum Shops (Las Vegas). Can't wait? Shop online at www.patriciacandido.com.
Entry Filed under: Designer Profiles,Features