May 8th, 2006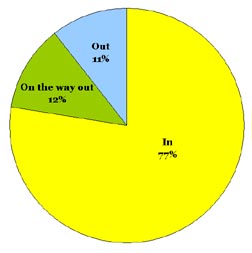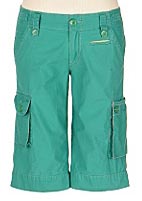 We asked: Are Shorts In or Out?
You said: Bring em on! A whopping 77% of you are loving this warm-weather favorite. Not since we asked about Nautical fashion did we see such an overwhelming vote of approval. Only 11% believe shorts are out, and only 12% think they're on the way out.
Omiru's take:
We've been loving the variety of silhouettes out there–from the short shorts to the more forgiving knee-length styles. A few figure flattery tips from us to you:

Long waisted (e.g. short legs): Try shorter length shorts to give your legs as much length as possible. On a casual day, pair these shorts with a pair of wedge sandals.
Short-waisted (e.g. long legs): Look for low-rise styles that give you the appearance of a longer torso.
Petite: Your best bet is a long short (ha) that hits you right above your knee. Look for shorts with a slim fit–avoid wide legged styles.
Full Derrière: Styles with medium sized back pockets minimize the size of your rear. Try pairing a dark colored short with a lighter colored and/or patterned top for best results!

Next Question: We're (still) seeing those Victorian-inspired high-necked blouses everywhere. Tell us, what do you
think about Victorian-inspired blouses? Are they In, or are they Out? Cast your vote on
the sidebar!

Entry Filed under: Features,News,Trend,What's In and What's Out