Though four years have passed since famous makeup artist Kevyn Aucoin left us, his legacy and his beauty line live on through his friend and business partner, Eric Sakas. The former Director of Marketing for the Inoui line of cosmetics for Shiseido, Eric worked very closely with the late Kevyn and founded the Trade Agency with the makeup guru. In 2000, the duo also founded Kevyn Aucoin Beauty, Inc., the company that oversees the manufacturing and distribution of Kevyn's complete line of cosmetics and lifestyle products. Omiru had the chance to chat with Eric about makeup tips and Kevyn's continuing influence on his eponymous beauty line.




Omiru: What was your relationship with Kevyn?
Eric: Kevyn and I were both partners and business partners. We shared a wonderful life together.
O: What do you remember most about him?
E: I remember that big heart, lots of laughter and joy, and how he treated people. He was really great with everyone; he could make anyone feel at ease. People loved being around him. His soul was bigger than his life.

O: What were some of his regular sayings?
E: It's not worth doing if you're not going to give it 110%. Tune out all the voices around you and listen to your heart. What makes us special and unique is what makes us beautiful.
O: Did the makeup line launch before or after his passing?
E: The Kevyn Aucoin Beauty Line was founded in May 2000. Kevyn Aucoin passed on May 7, 2002.
O: What do you think about when creating a product/choosing a color? What are you taking into consideration? (Feel free to reference the new introductions.)
E: We have years of products Kevyn developed that are sitting with our manufacturers waiting to be rolled out. There is a full bath and body line, a fragrance line, as well as a skincare line. Occasionally a new technology is introduced that I will incorporate into Kevyn's philosophy. I also look to his makeup bag for inspiration.
O: What are some tips for the lips?
E: Make sure your lip pencil is sharpened and of a fairly firm texture in order to clearly define and draw across the small lines around the mouth. Lining the lips (using the Flesh Tone Lip Pencil) will also help to prevent your lipstick from bleeding.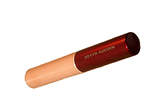 O: Eyes?
E: Eyes are the only area where you can really have fun and be quite creative. Unlike the lips, which can only be altered in shape before they start to look awkward, the eyes have no real set limitations. Each shape you create, whether with shadows, pencils, or liner, can take you into completely different realms. From "smoky" to "defining," subtle to high-drama, depending on the face you choose, the eye area is integral for a successful look.
O: Cheeks?
E: Blush can bring a glow or the bloom of youth to your face. Coloring is simple, too. Pink and apricot are favorite colors - more or less, it's foolproof. For liquid or crème blush (like the Creamy Moist Glow), it is best to apply it before powder. That way it blends easier and with loose powder over it, it looks like it's coming from within.

Images: Top left: The late Kevyn Aucoin. Bottom right: Kevyn Aucoin Liquid Eye Shading.
5 comments May 9th, 2006