May 15th, 2006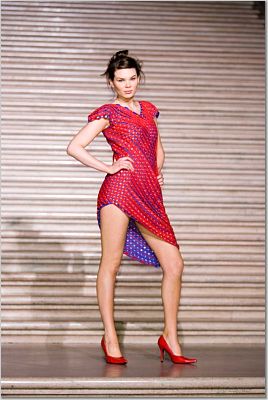 Photo Credit:
Drew Altizer
Key Takeaways: Nothing about this collection was dull. Loads of shine and asymmetrical patterns made this the perfect ending to the GenArt fashion show.
Color Palette: Black and white were prevalent, but not boring. Purple, yellow, red and blue were interesting diversions from the black and white.
Silhouettes: The whole enchilada: miniature booty shorts, loose summer shorts, deep v-neck stretch tops, belly-baring crop tops, sleeveless tops with frills at the ends, boatneck dresses with full skirts, and dresses with asymmetrical bottoms.
Accessories Report: Bright-colored and studded handbags. Sandals and pointy pumps adorned the models' feet.
What's Wearable: About 3 or 4 pieces were definitely street-worthy: a white boatneck dress with full bottom, a similar white boatneck minidress, a black studded loose dress, a v-neck black miniskirt.

What's Not Wearable: Some of the color combinations might save you a spot on a "Fashion Don't" list.
Entry Filed under: Runway Reviews,Runway Reviews,Trend,Women