May 16th, 2006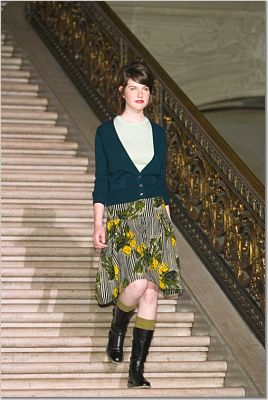 Photo Credit:
Drew Altizer

Key Takeaways: Volume is key: puffed sleeves, bubble skirts, and wide legged pants. Oversized collars, deep v-necks, 3/4 sleeves, and double breasted coats make us feel like we're watching NY Fashion Week.
Color Palette: Neutral shades, with splashes of green, purple, maroon, and mustard.
Silhouettes: 3/4
length tops, high waisted styles, deep-v necklines, long sleeved
styles, hemlines at the knee, bubble skirts, and a lot of
layering.
Accessories Report: Boots, colorful scarves, sweater caps, and dare we say a poncho!
What's Wearable: Most everything. Love the slouchy cardigans!
What's Not Wearable: We're not fans of the dark stockings–they make the looks older than they have to be.
Entry Filed under: Runway Reviews,Runway Reviews,Trend,Women