May 17th, 2006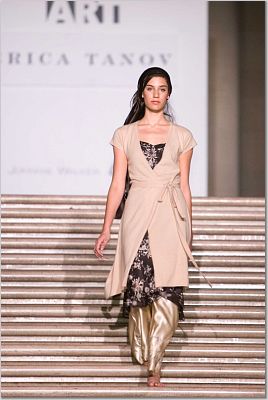 Photo Credit: Drew Altizer
Key Takeaways: This season was about unusual pairings of color, patterns and texture: We spotted jersey on satin, burnt orange combined with plum, and prints mixed in with plaids.

Color Palette: Orange and blue, chocolate brown and lime green, plum, burgundy, orange, champagne.

Silhouettes: Wide-legged pants, boxy jackets, slimming jersey wrap dresses and long, flowy skirts.

Accessories Report: Scarves–tied around the head, around the neck, around the waist–anywhere you can dream up.

What's Wearable: Virtually everything, particularly the beautiful champagne evening gowns included in the collection, as well as slimming wrap dresses and cropped jackets.

What's Not Wearable: A fringed poncho channeling the year 2004.

Entry Filed under: Runway Reviews,Runway Reviews,Trend,Women