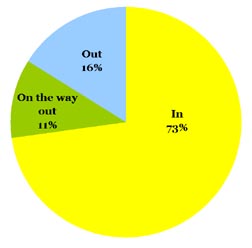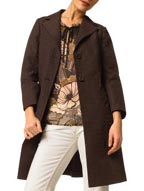 We asked: Are 3/4 Length Jackets In or Out?
You said:
They're In! A full 73% are for the 3/4 length style. Only a handful (16%) believe 3/4 length jackets are Out, and even fewer (11%) think they're on their way out.

Omiru's take: What's not to love about this classic silhouette? It's flattering on most body types, and in a lightweight fabric, it can take you from Spring to Summer with ease. To punch up this classic look, try a jacket with a little more personality. Look for oversized lapels, oversized buttons, or a bright color (orange, anyone?) for a jacket whose style does your personality justice.

Next Question: At the ExPosure fashion show, you wrote down Stunner Shades/Aviator Sunglasses on the In List. While we like the drama of these shades, we also appreciate the other extreme: Small and Square Sunglasses. Tell us, what do you
think about Oversized Sunglasses? Are they In, or are they Out? Cast your vote on
the sidebar!

3 comments May 30th, 2006