June 8th, 2006
Like Manolo Blahnik before him, Milan-based shoe designer Max Kibardin initially studied architecture before he leaped into the fashion world. His designs combine the structural beauty of architectural designs with the decorative detailing evocative of nature—in this case, simple vegetables. Kibardin's self-described dialogue between architecture and nature harmonizes in strikingly gorgeous shoe designs. Omiru caught up with Kibardin to get the scoop on his design process, his inspiration, and his style philosophy.

O: How did you get into the footwear industry?
M: Three years ago, I had an opportunity to have a colloquium with Fabio Zambernardi (head designer at Prada), showing him my prêt-à-porter womenswear collection. At that meeting, he asked me if I was interested into shoes. I wasn't initially, since my thoughts were about producing my own collection, but I started to think about it.
O: Who wears your shoes?
M: Fashion journalists. They are my favorite celebrities.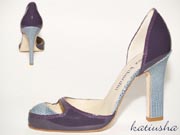 O: Describe your design process.
M: I start by collecting interesting details from movies, old magazines (I have big archive of them), art, nature, and architecture. Really, the whole world surrounding me. I do this several months before I start designing, and then one day it all comes together like a pieces of mosaic. My next step is to "stick" all the research work over the shoe form and create unique inspiration for the combination of colors and lines of shoe construction. Then you have to find a compromise from what do you want and what can you have, using a technical language for materializing the drawing. I rarely do fabric, color and trend research before designing. Normally, I am searching for the right fabrics, with drawings already in my hand, which might help me better to express my concept.
O: How do you manufacture your shoes?
M: My shoes are made in Vigevano, a small town next to Milan. Vigevano is traditionally famous for the factories, which are best for manufacturing high quality shoes. My shoes are being produced using old craftsman studio processes, and they can take about 3 months in production.

O: Any advice for aspiring designers?
M: Accept any experience that enriches your own fashion vision.

O: As a designer, do you feel extra pressure to wear trendy clothing?
M: Not at all, I still feel very comfortable continuing wearing my Helmut Lang jeans with Lacoste polos.
O: What do you think about this increased interest in what celebrities are wearing?
M: Celebrities, in this day and age, gain more human aspect, unlike the unreachable divas in the era of old Hollywood. As a result, it's very easy for any person to identify himself with celebrities.
O: If your house was burning down, and you could only keep one thing in your closet, what would you keep?
M: Helmut Lang jeans, since his shops are closed and they are so hard to find!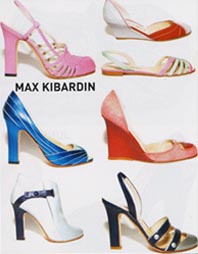 O: What is in style right now?
M: Chunky heels.
O: What's going out of style?
M: Diamond shoes.
O: What clothes have you worn that you're now ashamed of?
M: None. You have to try everything you want to, to find your own style.

O: What are you inspired by?
M: Mostly by old movies.

O: What are your favorite designers?
M: Miuccia Prada, Jil Sander, Helmut Lang, and Alber Elbaz.
O: High maintenance or Low Maintenance?
M: Trying to be low maintenance.

O: What's your style philosophy?
M: Less is more.
To purchase Max Kibardin's shoe designs, fax orders to 00390236555547.
Entry Filed under: Designer Profiles,Features