Last month, Zoë Hong went to New York as a self-described "not-famous everyday fashion designer." Days later, she came back to her hometown of San Francisco as a semi-famous award-winning fashion designer. As the winner of Gen Art's prestigious Perrier Bubbling Under Award, Zoë competed against 800 aspiring designers representing 28 countries and 33 states. The down-to-earth designer says, though, that the green trophy hasn't dramatically changed her life. Maybe not yet, but we expect great things to come from the disarmingly modest twenty-six-year-old.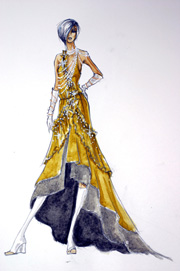 O: Tell us about the collection that won you Gen Art's Perrier Bubbling Under Award.
Z: This year, Perrier's theme was "sparkle." However, I'm not a sparkly designer. "Sparkle" makes me think of beads, sequins, and other add-ons. It was a challenge, but I love a challenge. I gave it my own twist and made sure the collection looked like me. I like mixing menswear elements in clothes, unexpected color combinations and fabrics. I played with these ideas with this "sparkle" theme in mind. So many designers out there are creating convoluted concepts. I like concept for the sake of clothes, not concept for sake of concept. I wanted to make something beautiful, something that was concept for the sake of clothes.

O: Tell us about your trip to New York for the competition.
Z: It was pretty insane. I'm trying to become a citizen, and I had an immigration interview scheduled for the day before. That's not one of those things you can reschedule. I went to the interview, came home to get my bags, hopped on the plane to New York, got in at 6am the day of the event, only to find that the hotel check in started at 3pm. After check in, I hopped into the shower, then did a Coutorture interview right before the event.
O: What about the actual event?
Z: Really, the first hour was a blur. I had too much caffeine and not enough sleep. The awards ceremony itself was pretty straightforward. I was in the second segment, and the person who won right before me was Bruno Grizzo. He's a great guy, and I have a lot of respect for him. However, when he won, he had a speech. It was written on a tiny little piece of paper. I freaked out! He had a speech. I really didn't have a speech. I calmed myself down by figuring that I wouldn't win anyways. So when I won, I was completely unprepared. I was blinded by the lights, and I rambled something. I didn't know what I said until Coutorture showed me the video of the event later.
O: You were quoted in WWD as saying, "I'd like to give Gen Art mad props for existing for this exact purpose." Would you like to comment on your comment?
Z: I was just really worried that I had offended Gen Art with my comment. I actually asked Tali at Gen Art to see if it was offensive. Luckily, she thought it was a great quote.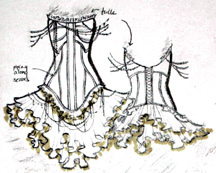 O: First thought when they called your name as the winner?
Z: I just sort of sat there. My boyfriend poked me on the side and asked, "Are you going to get up there?" I was wearing a traditional kimono for unmarried women. The sleeves were long, and they went just past my knee. I was also wearing 5-inch platform heels. I just kept thinking, "Don't trip! People are watching!"

O: How did you celebrate your big win?
Z: I've been meeting a lot of fashion bloggers online, including Julie Fredrickson, one half of the Coutorture team. I emailed her a couple weeks before I went to New York and told her why I was coming. She decided to throw this huge party—a Coutorture Launch/Congratulations Verbal Croquis [my blog's name] party. It was at Lucky Jacks on the Lower East Side. WWD, Fashion Wire Daily, and Glam were there.

O: How did winning the award change your life?
Z: It hasn't really changed my life. I don't ever think that these sorts of things change your life. It's what you end up doing with it. I feel like my 15 minutes of fame are over. But for me, the most important thing was an industry validation of my talents as a designer.
O: In addition to being a designer, you're also an avid fashion blogger. For our readers who aren't familiar with your blog, Verbal Croquis, would you please describe it?
Z: Verbal Croquis is the adventures of a not-famous everyday fashion designer who is extremely ambitious and hardworking. It's a realistic view of the life of a fashion designer. It's not always glamorous. A lot of days, it's coming home really tired, waiting for your samples from China that are stuck on a boat somewhere, going to boring meetings, and not being able to meet fabric minimums. It's a boss who's not feeling you one day, and yet, totally feeling you another day. Interestingly, people recently started writing me asking for fashion career advice. Now I appear to be the blogosphere's go-to gal for how to get your fashion career started.

O: What's your most important piece of advice for aspiring designers?
Z: You really have to figure out where in the industry you belong. Pinpoint what you want. That will guide you to whatever methods you need to get started. There are various options, and plenty of options as a designer. What kind of designer do you want to be? Where do you want to be? How involved do you want to be in production and construction? First, nail down your long-term and short-term goals. Only then can you figure out how to get there.

O: How did you get into the fashion industry?
Z: I'm one of those cliché stores that always loved fashion. There's a picture of me at 7 years old, with a JC Penney catalogue in my arm. It had hundreds of pages of pretty pictures, and I carried it everywhere.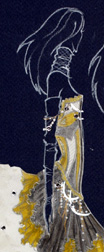 O: What do you love about fashion?
Z: When you talk about fashion, you can have one conversation about the cute shoes you have to have, which can turn into a discussion about fashion trends and consumption and how things have changed. I love the variety and how it reaches different parts of my brain. I never get bored.
O: What do you dislike about fashion?
Z: The preconceived reputation of designers. Everyone assumes you don't need any training. It's not like law. You don't need to pass an exam, you don't need a degree. Sure, we're not saving lives or anything, but it does the profession a disservice when people come in and say, "Oh, design can't be hard." It lowers the already tarred reputation of designers as lazy.
O: What do your parents think about your career choices?
Z: I was groomed to be a lawyer. I had piano lessons. I had to learn how to cook, quiet my voice at the appropriate time, and do the whole docile Asian thing. When I was preparing my portfolio for design school during my senior year of high school, my dad not so subtly hinted at alternative college options. He left a Yale Law school sweatshirt outside my bedroom door.

O: What's your definition of style?
Z: It's your personality in tangible items. I have no personal style because I never groomed it. I've been too busy grooming other people. My uniform is a leather jacket and jeans. When I have to go to an event somewhere, I start sweating thinking about it. I was never my own muse.

O: Favorite designer?
Z: It's a tie between Alexander McQueen and Nicolas Ghesquière at Balenciaga. I love them both because they do it different. I don't think their designs are really about shock value. It's just how they are as designers.

O: High maintenance or Low maintenance?
Z: Personality wise, I'm pretty low maintenance. I leave all of my Type A-ness to my work. I have a free flow social life, but at work, I'm really organized with a very detailed calendar. You have to deliver. So much of this industry is all about deadlines. I'm demanding of my team, but I try to be friendly.



O: What's in style right now?
Z: I had a very interesting conversation with some fellow fashion bloggers. We decided that it's everything and nothing. We did the whole bohemian look for awhile, but that's done, even though the garmentos are still doing it. More recently, we saw designers doing the "new minimalism." Really, it was about looking like a woman instead of looking like a girl. That's where fashion is right now.

O: Everything and nothing?
Z: Fashion doesn't have an identity this year. It's trying to make an identity for itself this decade, while trying really hard not to do the vintage thing. It's tough, because a lot of what's out there has already been done. It's giving fashion a bit of an identity crisis. There's a whole movement towards making fashion more democratic with small design houses proliferating. There's no fashion dictatorship anymore. All of the big stars—Marc Jacobs, Prada—they're left over from the 90s.

O: Last words?
Z: I'm still young, I have a lot of energy, can you expect a lot of new things coming from me, and not just from my blog. I have more ambition than most fashionistas have shoes. I love this industry.
Love Zoë as much as we do? Visit her blog at http://verbalcroquis.wordpress.com.

1 comment June 15th, 2006