June 29th, 2006
Pamela Pekerman is not someone who moves slowly. Only a year out of New York University, the entrepreneurial journalism major owns a successful handbag online store (BagTrends.com), a BagTrends blog, and a fashion blog assocation (founded with Lesley Scott of Fashiontribes) called "Bloggers who Brunch." Oh, and she already has stints at Cosmo, InStyle, and YM under her well-polished belt. Omiru caught up with Pamela to talk about both BagTrends.com and, of course, bag trends.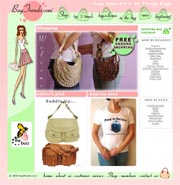 Omiru: Where did your obsession with bags start?
Pamela: It would have to be when I received my first Louis Vuitton bag from my sister. I was 16 or 17, and I really loved the bag. My love of bags continued in college. My first fashion internship was at Cosmo in the Accessories department. Later, I was at InStyle in Accessories. At both jobs, I was more into the shoes, bags, and belts than the clothes.

O: Tell us about your site: BagTrends.com.
P: We feature new designers that haven't yet hit the mainstream. We were the first to write about Andrea Brueckner, and we were the first to carry her bags. We were also the first to report on JT Carpet Bags. We wrote about them before Vogue and Elle. We also have a bagtionary—a dictionary of bag terms.
O: You also have a BagTrends blog.
P: It's relatively new—we launched it about a month or two ago. We wanted something that we could update daily without having to talk to our web designer to adjust the layout. We were covering New York Fashion Week with daily updates, and it was driving me and my sister insane. We were working from 8am to 3am, writing, editing, and pulling pictures.

O: Favorite Contemporary Bag Designer?
P: Zefanya. The first collection is coming out this fall. I saw Zefanya's collection at a trade show, and I was impressed by the quality of both the designs and the bags.

O: Bestsellers at BagTrends.com?
P: Andrea Brueckner—we had to reorder. Ipa-Nima also had a European style canvas and leather tote that sold out really fast. Renato Minelli bags are also in-demand for good Italian quality.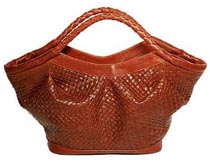 O: Current bag trends?
P: The Big Thing is color. There aren't really any rules right now—we're seeing everything from neon colors to canary yellow, fuchsia, and lime—some really obnoxious colors. Even Chanel did a bag in neon yellow with a splash of white. Someone's going to regret spending $5K on that bag in a few months. Other than that, knitting is a big trend. It's been around for about three seasons, and it's not going away. We'll be seeing crochet, but thicker, for fall.
O: How about the next big bag trends?
P: For fall, we'll be seeing embossed leather with the look of a print. We'll also be seeing some great details—I saw a bag with handles that were barrel style and woven. As for bag size, we'll still be seeing a lot of big bags. However, as we move from Fall 2006 to Spring 2007, the bags start to get smaller. Not small, but not as outrageously large.

O: What bag trends are going out of style?
P: Fewer and fewer fashion people are carrying black bags. Now, they're carrying brown—or offshoots of brown: tan, taupe, and coffee. Bottom line? If you want safe, black is no longer safe. Brown's the new safe color.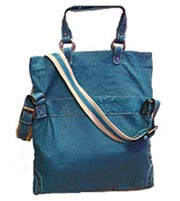 O: Bag buying advice?
P: Always look for quality. Check out the zippers, and not just the one on the outside. Look at how it's made. Look at the stitching. Look for a bag with longevity—not too wild, and not too trendy. Certain styles don't go out of style—such as the doctor's bag, the satchel, and the shoulder bag. Look both at color and at shape. Personally, I'm big on pockets—so I look for a bag with a good number of useful pockets as well.

O: What's the most you've ever spent on a bag?
P: $1300. It was the day after I gave the deposit to the web designer to create the Bag Trends site. I bought a Gucci bag about five seconds after it came out. I don't regret the price of the bag—just how it functions. It has no smart closure to it, and when it rains and snows, weather gets into my bag. I could have gotten three great contemporary designer bags for the price of this one Gucci.

O: What's your all-time favorite bag?
P: The LV Speedy bag. It ages well, and it never goes out of style. The bad thing about the Speedy, however, is that it has no pockets.
O: Last words?
P: People are very focused on accessories as a whole. You can have ten women wearing black pants and a black shirt, and each one of them can be totally different through accessories. Here, accessories are what define them. And what's fun is that it's easier to take risks through accessories instead of clothes.
Shop Pamela's handbag picks at BagTrends.com, and say hello to her at the BagTrends blog.


Entry Filed under: Designer Profiles,Features